Ryman Group boss Theo Paphitis is considering opening more Robert Dyas stores in shopping centres as he seeks to take advantage of new retail property coming online.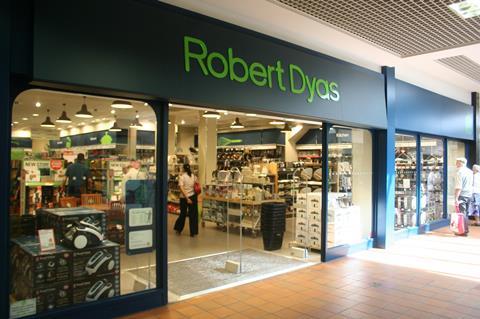 Paphitis is weighing up the co-location of its Ryman, Boux Avenue and Robert Dyas shops as he vies to get hold of larger former Blockbuster, Jessops and HMV properties.
Paphitis said he may open more shopping centre stores following successful trading at Robert Dyas' branch in Lakeside, Thurrock.
Paphitis, who bought the homewares and hardware retailer last July for about £10m, said he has since made significant changes to the Lakeside store, which has been "successful" after delivering a "massive increase in footfall".
"If Lakeside is anything to go by, there is an opportunity there for us [in shopping centres]," he said.
Paphitis is eyeing stores from collapsed retailers HMV and Blockbuster, as well as looking at those left by Jessops, whose brand was rescued out of administration by entrepreneur Peter Jones at the beginning of the month and will trade online.
Paphitis, who also owns lingerie retailer Boux Avenue and Ryman Stationery, said it might be an option to buy some of the larger stores and locate more than one of his brands in standalone shops adjacent to one another.
He said: "For some of the larger stores we could cut them up across the brands and make the stores smaller."
Robert Dyas was originally established as an ironmonger 140 years ago and now has 97 stores and employs more than 1,000 staff.
Robert Dyas recorded a fall in operating profit to £1.6m from £2.8m in 2011.
Ryman Group said trading since the acquisition had been "excellent". It has forecast EBITDA will reach more than £4.5m for the financial year ending March 31, 2013.
The retailer is now also free from bank debt.
Last week, Paphitis revealed that he is stepping down from his role on TV show Dragons' Den to focus on building Robert Dyas and expanding his Boux Avenue business overseas.
Q&A, p34