Retail Week compiles its alternative cabinet: their leadership qualities and knack for understanding what Brits really want mean these retail names might be a better bet than many MPs.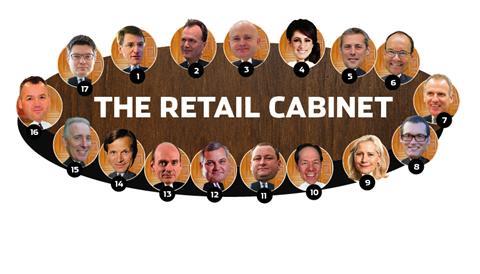 1) Prime Minister: Sir Charlie Mayfield, John Lewis Partnership:
Sir Charlie would make an excellent Prime Minister. After all, he is comfortable drawing on his military background to ensure big personalities toe the line and keep rivalry and personal ambition within bounds. The authoritative and statesman-like Mayfield, also chairman of the BRC, is used to being grilled about JLP and the economy so Prime Minister's Questions would be a doddle.
2) Deputy Prime Minister: Seb James, Dixons Carphone
James is David Cameron's close friend, so he knows a thing or two about politics and has all the attributes a Prime Minister might look for in a right-hand man. He is as comfortable liaising with shopfloor staff as the top brass and his oversight of the Dixons Carphone merger proves he can bring people together.
3) International Development Secretary: Paul Marchant, Primark
Marchant is the perfect ambassador on the world stage. Under his stewardship Primark has stamped its mark on European countries including Spain, the backyard of fast-fashion supremo Zara. Next on the hit list for Marchant is the US. Watch this space.
4) Business, Innovation & Skills Secretary: Jacqueline Gold, Ann Summers
From encouraging self-starters through Ann Summers parties, to a Twitter campaign to help female entrepreneurs, Gold is a champion of businesswomen. She's already used to getting stuck in on the political side, having met the PM in March to talk rates reform.
5) Culture, Media & Sport Secretary: Matthew Barnes, Aldi
Barnes has shaken up grocery's Premier League, making the release of monthly sales data as big an occasion as the Saturday footie results. Rugby-mad Barnes has scored against the big teams, reinvigorating the spirit of competition across the sector as players aim to be match-fit. And Aldi has revealed a deal to sponsor Team GB ahead of the Rio Olympics in 2016.
6) Foreign Secretary: Mike Coupe, Sainsbury's
After becoming embroiled in a bizarre legal case in Egypt, Coupe's ability to build relations overseas has been put to the test. His diplomatic approach could help build allies abroad – something he already has form in after orchestrating a tie-up with Scandinavian retailer Netto.
7) Justice Secretary: Dave Lewis, Tesco
Liaising with authorities and dealing with investigations has become par for the course for Lewis since taking the reins at Tesco, fighting the grocer's corner amid probes from the Groceries Code Adjudicator, Serious Fraud Office and the Financial Reporting Council. But he wants a fair deal for shoppers too, and has pledged to transform Tesco into the "customers' champion".
8) Education Secretary: Matt Davies, Halfords
No doubt one of the reasons soon-to-be Tesco UK chief executive Davies caught the eye of the grocer's boss Dave Lewis was his formidable reputation in training and learning. At Halfords, and before that Pets at Home, Davies was well known for skilling up his workforce to deliver better customer service. That makes him the obvious choice for Education Secretary. And no doubt he would also brighten up Cabinet meetings by bringing his dog along.
9) Communities and Local Government Secretary: Véronique Laury, Kingfisher
As the boss of Europe's largest DIY retail group Laury has a vested interest in the UK's housing policy, so she is a natural fit to lead the Communities & Local Government brief. She can also leverage her expertise in building friendly Anglo-French relationships in order to bring harmony to more disparate communities the UK.
10) Transport Secretary: Chris North, Amazon
If Amazon ran the UK's transport network the days of endless weekend engineering works would be long over. Amazon's logistics operation is leading the way as it tests innovations including drone flights and one-hour deliveries. North is in charge of the UK roll-out of developments that would not be out of place in a sci-fi novel.
11) Work & Pensions Secretary: Mike Ashley, Sports Direct
A controversial choice to be in charge of the nation's welfare system, not least because Sports Direct uses zero-hours contracts. The man himself might argue that by employing thousands of workers across Sports Direct's 420 UK stores, he is helping to keep the benefits bill down.
12) Food & Rural Affairs Secretary: Mark Price, Waitrose:
Who better to lead DEFRA than the chairman of The Prince's Countryside Fund? The self-styled 'chubby grocer' loves nothing more than a jaunt in the English countryside and could contribute data to the Cabinet from Waitrose's first Food & Drink Report last year.
13) Defence Secretary: Richard Pennycook, The Co-operative
Pennycook's experience has been forged in the heat of battle at the Co-operative Group. First he played a central role in ensuring the mutual's banking arm did not fall, then went on to become commander-in-chief, conducting a hard-fought campaign to overhaul the business.
14) Energy & Climate Change Secretary: Marc Bolland, M&S
The Dutch boss of Marks & Spencer has his finger on the pulse when it comes to the green agenda. Bolland spoke on the issue of sustainable growth at this year's World Economic Forum in Davos and has overseen M&S's clothing recycling scheme, Shwopping.
15) Chancellor: Jim McCarthy, Poundland
McCarthy helps his penny-watching customers survive on a tight budget, providing confidence he could manage the country's finances. Having grown up in a mining village, he can relate Britain's working class but still make the big calls when needed.
16) Home Secretary: Andy Clarke, Asda
Amid a turbulent year of restructuring among the big four, the Asda boss was the first of the leading grocery chiefs to get his house in order. A firm but fair leader with a proven track record of succeeding under pressure, Clarke has all the skills required to flourish as Home Secretary.
17) Health Secretary: Lord Wolfson, Next
Next has been the picture of health under Wolfson's leadership, barely sneezing when others have caught a cold. His diagnoses on trading conditions and economic trends are alighted upon by retailers keen for reassurance from his industry check-ups. His unflappable bedside manner and way with numbers make him an obvious choice to oversee the NHS.