The Oracle Retail Week Awards 2013 are nearly here. Caroline Parry takes a look at some of the entries and the new Zolfo Cooper Growth Retailer of the Year Award.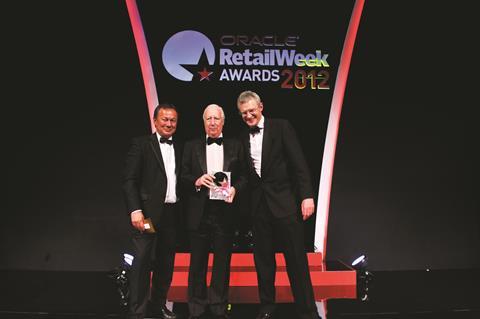 In a year already characterised by high-profile administrations, it has never been more important to celebrate retail's success stories and recognise the achievements of the people that make them happen in such a difficult climate.
The Oracle Retail Week Awards, to be held on March 14 in London, will highlight that it is possible to thrive and to innovate, even in tough times.
For any retailer to flourish, even in good times, dedicated staff who are motivated and passionate about
delivering growth is essential. This year's entries in the Store Manager of the Year category include people
prepared to go above and beyond to create teams that are proud to do their jobs and that offer customers the best in-store experience.
Drive, leadership, energy and intuition are words that came up time and again in this category, alongside phrases such as "generous with their time" and "clarity of vision". For Ian Allcock, manager of Homebase Aylesford and last year's winner, the latter was key to his success at his store and, in turn, winning his award.
He says: "By being clear, you allow your team to build that vision."
This year's nominees bring a range of admirable attributes to their roles. Argos South Shields manager Shaun Senior is noted for his natural leadership skills that bring out the best in his team, while Nicola Bennett, general manager at Boots on Cardiff's Queen Street, is described as most at home on the shopfloor, leading from the front when it comes to customer care and setting a standard for her staff.
Hobbycraft's Stephanie Hush, who heads the crafting group's Dundee store, has energised and engaged her team since the shop's launch last year with her clear sense of direction. In Manchester, consistently high customer service levels are key for Adam Whitmore, manager of Sainsbury's Piccadilly Station, even when he is faced with unexpected situations such as the riots that affected the city in 2011.
James Pearce, manager of Carphone Warehouse at Swindon Retail Park, is described by his colleagues as inspirational and is recognised for his "can-do" attitude, while Vicki Woodall, store manager at Your Local Boots Pharmacy in Wigan, boosted the shop's performance thanks to her clear vision and high standards for herself and her team.
While the individual stores might vary greatly, the common thread between the shortlisted entrants is their ability to not only deliver their targets but surpass them. Many of the nominees hold additional regional responsibilities as an endorsement of what they have achieved at their store. All of them mentor and coach staff and have helped members of their team progress - some are now store managers themselves.
New award
It's not just inspiring store managers that the Oracle Retail Week Awards will honour. This year, the awards will feature privately owned retailers that have been able to carve out a niche and achieve growth, with the Zolfo Cooper Growth Retailer of the Year Award.
The shortlist, which includes retailers such as Office, Cath Kidston and Poundworld, has been compiled from a report by the advisory and restructuring specialist that indexes the top 30 companies with the fastest growing profits in UK retail. The aim is to celebrate retailers whose drive and energy has achieved high growth. For this award, profit is defined as EBITDA and exceptional items with directors' remuneration added back in.
Zolfo Cooper director Dan Coen explains the firm is taking this approach because private companies take such different approaches to directors' remuneration depending on their ownership - the aim is to remove any potential distortion.
To qualify, retailers must have had a minimum level of turnover in the past three years and a minimum level of profit. Companies must be registered in the UK and be privately owned. The index includes UK subsidiaries of European businesses but only their UK performance has been considered. Retailers that have grown through acquisition are also included.
Much to be proud ofCoen says: "We are delighted to be sponsoring The Zolfo Cooper Growth Retailer of the Year Award in order to honour retailers that are thriving."
He says the shortlist "represents all that's great in British retail at the moment". He adds: "A glance through the list reveals a broad range of retailers but all of them operate with consumer needs at the heart of what they do."
The shortlist also includes 99p Stores, Aldi, American Golf, Aurum, Charles Tyrwhitt, Ideal Shopping Direct and Perfect Home Holdings.
With such shining examples of retail growth and staff dedication, this year's Oracle Retail Week Awards will offer a timely reminder that the industry still has much to be proud of and plenty to celebrate.
Ian Allcock winner, Store Manager of the Year 2012
When Homebase Aylesford manager Ian Allcock and his team watched helplessly as their store burnt down in a ferocious fire in May 2010, their future felt decidedly uncertain.
Yet in just 12 months, a new store had risen from the ashes and its new service-focused proposition became a template for future shops. And last year Allcock was crowned Store Manager of The Year at the Oracle Retail Week Awards for his crucial role in making it happen.
In the days after the fire, Allcock not only took responsibility for placing his 68 colleagues in other stores in interim roles, he played a key role in coaching them through the trauma.
At the same time, he began a challenging personal journey working with the local authorities, demolition crews and the Homebase project team to plan and implement a new build that included a series of innovations.
Aylesford was to become the first 'home enhancers store', rather than the traditional DIY warehouse, with a new central decorating hub, a new layout and service format and, as a result, 50 new members of staff.
Through a series of one-to-ones, Allcock helped his team understand the changes and devised a plan to bring in recruits to newly created roles. He created an intensive eight-week training plan to ensure all staff felt equipped to tackle their roles, coordinating trainers from 32 suppliers.
Despite being redeployed himself, Allcock regularly visited his team to ensure they felt part of the ongoing transformation and continued to act as a mentor to new store managers and graduates.
For Allcock, winning the award was recognition for him and his team of what they had achieved - not just from Homebase but the wider industry. He says: "It was a milestone for us and really helped to build on our success.
It was really important for my self-worth too. You have challenging times in retail sometimes but, when I look at that trophy, it helps me get through those."
Awards are also important for the wider industry, he adds, because they help retailers to remain at the top of their game: "It's important to recognise when something is sharp, as it helps to set the agenda."
The Oracle Retail Week Awards
The Oracle Retail Week Awards take place on March 14, 2013 at The Grosvenor House hotel in London.
The awards evening is retail's most prestigious night of the year, and most of all it is an opportunity to celebrate all that is great about British retailing. Tables are now very limited. Book online or call Nitin Kundra on 020 3033 2646 to secure your place.