The Body Shop has redesigned its app to include a loyalty scheme as it refocuses its digital strategy to maximise mobile opportunities.
The health and beauty retailer opted to launch the new scheme, called 'Love your body club' (LYBC), on its existing transactional mobile app because of the rising popularity of m-commerce.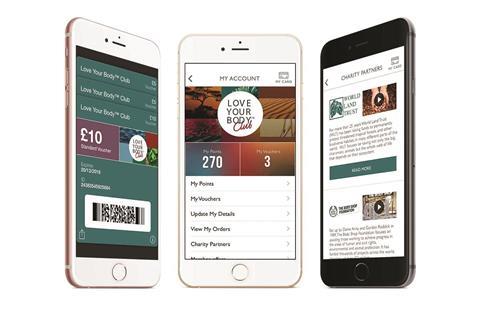 The Body Shop believes that the channel is especially popular with already loyal customers.
The app allows LYBC members to accumulate and spend points and digital vouchers as well as gaining added extras such as free delivery and donating to the retailer's charity partners. Users are also notified when passing a nearby store.
The addition of LYBC to the app formed part of a wider update which included redesigning the mobile checkout and integrating PayPal and PayPal Express into the payment options.
Digital and ecommerce director Adam Plummer said: "We're really excited about incorporating Love your body club into our mobile app, the first step towards making it the go-to hub for our loyalty programme."