Tesco chief executive Philip Clarke said retailers need to "get personal" with customers if they are to stay ahead in the changing digital landscape and forge closer links with suppliers to deliver innovation.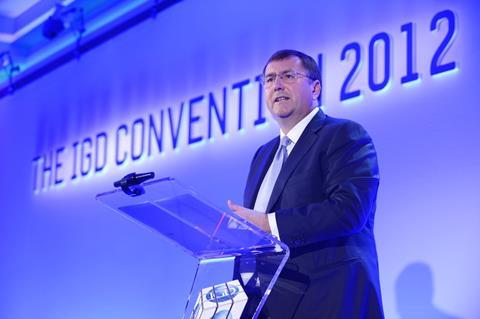 Speaking at the IGD Convention in London, Clarke said retailers should rethink their approach to retailing as the digital revolution has changed the way customers shop.
"We need to personalise our entire offer to cater for individual needs and to anticipate what customers want in the future," he said.
Clarke said one in five online purchases at Christmas will be made via a smartphone and that the recession has increased the importance of digital.
He said digital creates new challenges for retailers, including privacy and the protection of customer data. "All brands should have one seamless relationship with customers both online or in store, the same high standard," he said.
The development of social media has meant customer tastes are changing even more quickly, Clarke said. As such, retailers need to be more innovative, he added.
He explained that Clubcard had helped Tesco stay ahead of changing customer tastes but "success in the past doesn't guarantee future success".
He said retailers can't deliver innovation on their own and relationships with suppliers are key. "We need to forge closer links with suppliers," he said. "The pace of change is so fast, and the customer offer needs to be so personal, that we need to work closer with suppliers."
Tesco has set up an internal online community for its global suppliers to share data and ideas. Clarke said it offers blogs, discussion forums and insight on customers to share with suppliers.
Clarke said: "If we want suppliers and manufacturers to personalise what we sell, we have to tell them what customers are telling us."