Tesco has gone head to head with Sainsbury's in Northern Ireland following Sainsbury's launch of its price guarantee scheme last month.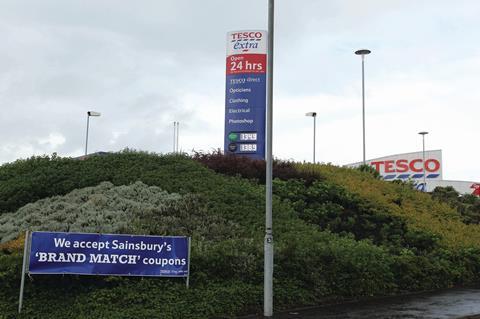 Tesco has put up posters outside its stores in Northern Ireland that read 'We accept Sainsbury's Brand Match coupons'. It follows a similar path Tesco took in England when Asda launched its Asda Price Guarantee, and Tesco started to accept Asda vouchers.
Sainsbury's Brand Match is trialling in 12 stores, and uses technology to price match with Asda and Tesco on 12,000 branded grocery lines. If at the till customers' groceries are found to be more expensive than they would be at Tesco or Asda, the customer immediately gets the price difference as a coupon against their next shop. Asda and Tesco's schemes offer a coupon after the customer has checked the prices online at home.
Kantar director of retail insights Bryan Roberts said the immediacy of Sainsbury's offer would appeal to shoppers as it required no effort to take part.
Asda led the way with its Price Guarantee more than a year ago but upped the ante this year by promising to be 10% cheaper than its rivals. Tesco hit back through its Price Check promotional campaign offering "double the difference" back but was forced to cap refund vouchers at £20 after canny shoppers were buying goods on offer elsewhere so they could claim the vouchers.
Sainsbury's group commercial director Mike Coupe told Retail Week last week that Brand Match would trial in Northern Ireland so the grocer could iron out any hiccups, before rolling it out elsewhere in the UK.