Viewers of Sunday night's The X Factor and Downton Abbey were hit with Tesco's offensive during the ad breaks with its Big Price Drop campaign.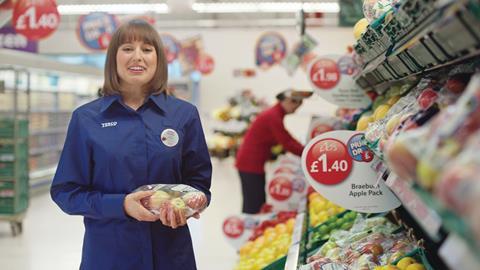 The campaign is very run of the mill for Tesco, despite the considerable speculation around the launch last week. Created by Red Brick, the campaign shows people enjoying Tesco's cheaper products, then one of its staff in store explaining that prices have been cut on 3,000 lines.
It doesn't use any celebrities such as Jane Horrocks – who, incidentally, wrote to Tesco UK chief executive Richard Brasher saying that her words had been misconstrued after it was reported she said the supermarket was full of chavs – and it simply shows the scale of the cuts.
But that's what Tesco wants to show – no gimmicks or celebrities, just that it has slashed prices on everyday products.
What gives the campaign clout though is the heavy print and in-store activity. The grocer ran five different Price Drop ads in The Sun on Monday and the stores are awash with point-of-sale material.
Interestingly, Tesco also pointed shoppers to download an app in the print campaign. Created by Blippar, it allows customers to access store locations and download recipes by hovering their phone over the ad.
The app worked when tried by Retail Week but it needs a bit more explanation in the print ads as most customers won't be familiar with the concept.
The campaign also marks the end of its Double Clubcard points offer. Tesco will instead use that investment to fund more price cuts. Brasher said last week that customers still want rewards, but they also want a little something for now, which is what it will offer with the cuts.