After years of hype, momentum is building behind m-commerce. Glynn Davis finds out how retailers are capitalising on mobile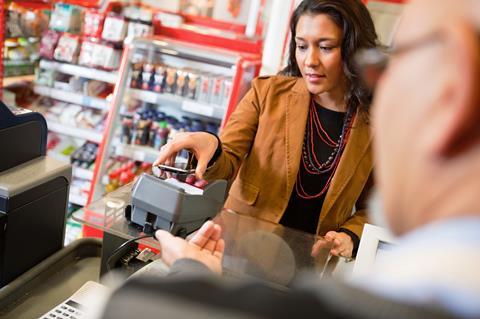 Mobile technology has been much discussed in the retail industry, but until this year there were precious few examples of it actually being used. Now, more retailers are trying it out and finding it worth the effort.
Evidence of a growing belief in the channel came in the most recent IT in Retail report, produced by Martec International and sponsored by BT. It found that among the UK's top 100 retailers 16% are now using m-commerce and 12% are planning to do so, compared with just 5% using it last year. Among food retailers, 14% currently use m-commerce and a hefty 18% plan to sell via the channel over the next 12 months.
As Asos head of IT strategy Martin Strotton says: "The potential for mobile is that customers have it with them all the time. It gives a reason to communicate through the phone and then you can track and monitor their behaviour."
Shop Direct Group director of online Jonathan Wall agrees, saying: "This is the year that it's happening. We're now getting a doubling of mobile 'sessions' month-on-month and a six-fold increase in sales. We think it will be 10% of visitor sessions this year."
He says the main motivation for mobile investment is that customers are demanding it. "We are going where the customers are going and they are going mobile. Our customer base is not generally early adopters but they are following the UK adoption rates for smartphone usage and are in line with broadband penetration," he says.
The risk of not making the move is that sales will be lost to rivals. "We're acquiring new customers on the mobile channel but the majority are existing desktop shoppers migrating to mobile. We see it as a protectionist move as our customers could easily go to [the mobile sites of] House of Fraser and Marks & Spencer," explains Wall.
A strong signal
Certainly the statistics for mobile usage and m-commerce are compelling. A customer survey by telecoms industry body MEF found as many as 91% of UK consumers have used their mobile device to either research or buy a product. And the Online Retail Monitor published in July by the British Retail Consortium and Google reported a 216% year-on-year jump in retail searches on mobiles for the second quarter of 2011.
These are not forecasts, but an indication of current activity. Damian Hanson, chief executive of mobile consultancy One Iota, says even innovative etailers like eBay are sometimes surprised by mobile's success. "They were absolutely astonished how big mobile became, with one in four transactions now made on mobiles, and they only see it getting bigger."
It is a similar story at online grocer Ocado, which now generates 12% of its sales on its mobile apps – in its latest set of figures, this meant more than £60m in sales.
Mobile's success as a sales channel means many retailers are rethinking their strategies, says Hanson. Initially there was very little money invested and transactional sites were not the priority. Many stuck to launching simple applications that incorporated store locators and promotional offers.
However, this mentality is changing and there is now a much stronger focus on offering transactional mobile sites. Dan Hartveld, director of mobile at digital agency Red Ant, says: "A lot of people were previously interested and scoping out the market but since the start of 2011 they've been realising it is suddenly a real channel for business and are looking to change their previous efforts into something substantial."
Retailers including M&S, John Lewis, Asos and Amazon had originally put up quick-and-easy mobile sites that repurpose ecommerce sites into mobile format. These sites worked well but couldn't do a great deal – and retailers are now taking things further. Shop Direct for instance is moving each of its brands onto new mobile sites starting with Very, which was relaunched in August. The remainder will be completed by the end of September.
M-commerce and ecommerce are together now cited as the top investment priority for retailers, with 23% of retailers prioritising it, according to the Martec report, and luckily the investment needed is fairly small. "It's relatively modest, it's more a mindset. Which means everybody should be doing it if they have a web presence," says Wall.
On the move
Depending on the quality of the ecommerce infrastructure already in place, Hartveld says the level of investment needed to develop a transactional mobile shop could be between £30,000 and £50,000, but that this could rise to £250,000 where there is a less developed ecommerce back-end.
This indicates how closely linked retailers' online stores are to their mobile counterparts. But the links between channels don't end there – many think mobile will be the glue that binds channels together.
Heather Barson, retail director at IT service provider Steria, expects to see a handful of retailers over the next year or so creating an end-to-end shopping experience revolving around mobile. A completely integrated retailer could have customers scanning goods at home, visiting the store and receiving a tailored route via their mobile, paying by phone and then leaving with an electronic receipt.
Hanson suggests the introduction of Wi-Fi into stores by retailers such as Tesco is recognition that mobile is playing an increasingly important role within the physical store. "It's a way to engage with customers when they are on their journey within a store and to get to know them better," he says. This can mean targeted offers and other promotional communications.
But there is a word of warning from Wall, who says his biggest concern is bandwidth. With 3G creaking under the strain of the increasing demands of data-hungry mobile devices – and 4G not arriving until 2014 – he suggests retailers bear this in mind and recommends building sites that are not too heavy on data.
Customers are keen to use their mobiles to shop and retailers still have some work to do to provide them with everything they want. But as the market becomes flooded with clever apps and services, the industry is proving itself equal to the challenge.
How mobile is going mainstream
16% of retailers are now using m-commerce and another 12% are planning to do so in the coming year, according to Martec International's survey of the top 100 retailers in the UK. This is compared with just 5% using it last year
Retailers are increasingly investing in transactional apps and mobile sites, moving on from the first generation of apps that provided other services like store finders
If a retailer's ecommerce operation is well developed, the cost of a mobile site can be fairly low. Costs tend to rocket if investment in back-end infrastructure is needed
23% of retailers now say ecommerce and m-commerce are their main investment priorities, according to Martec
Mobile is credited with being the link between online and store commerce, making businesses fully cross channel. Mobile scanners, payments and receipts are all possibilities
One big challenge for retailers is the lack of decent mobile coverage, making the need for in-store Wi-Fi even more pressing. 3G networks are notoriously unreliable and 4G is not expected until 2014 so keeping the amount of data on mobile sites low is advisable
In the longer term the mobile channel could be a valuable source of data, allowing retailers access to information on how people research and shop