Apple has revealed that its long-awaited mobile payment system Apple Pay will finally arrive in the UK next month, but what does this mean for retailers?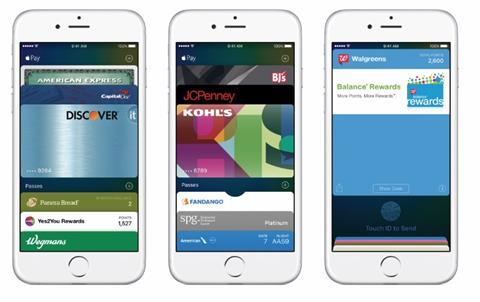 The technology giant said that retailers including Boots, Liberty, Lidl, Marks & Spencer, New Look, Spar and Waitrose will be among the first to adopt the contactless payment system.
How does it work?
Apple Pay can be used by retailers that have installed contactless point of sale terminals. To pay, iPhone users hold their device near the contactless reader while keeping their digit on the fingerprint scanner, while Apple Watch owners double-click the side button and place the watch face up to the reader.
Apple does not charge the retailer any additional fees and fraudulent transactions are treated in the same way as credit or debit transactions.
"For retailers there is nothing they need to do except enable themselves for contactless and they're ready to go," says Jeremy Nicholds, executive director of mobile at Visa Europe.
"If people leave the house with one item, it's their mobile phone. We've worked alongside Apple and the various banks involved to give customers a really seamless and exciting new payment experience through Apple Pay."
So why are so many well-known retailers, such as Tesco and Argos, absent from Apple's list of retailers offering the payment method in-store?
It is unclear whether retailers have to negotiate to sign up to the new service through Apple or their bank providers. Apple's Frequently Asked Questions page advising US retailers says companies should contact their payment provider and say they would "like to accept Apple Pay".
It is also unclear whether from next month consumers will be able to use Apple Pay at all contactless terminals or just those of retailers who have signed up to its new system.
It is understood that while Tesco, for instance, has no plans to formally adopt Apple Pay, some of its stores in London that have contactless payment PoS terminals will still be able to accept it.
Adoption
Retail and technology firms, and observers of both, have been waiting eight months for Apple Pay to cross the Atlantic following its US launch in October.
Forrester analyst Thomas Husson believes adoption in the UK will be faster than the US, but observes that any change in payment habits takes time. Participating retailers will have to incentivise and educate customers into using Apple Pay.
"I believe Apple Pay needs merchants more than merchants need Apple Pay"

Thomas Husson, Forrester
"It's interesting to see Transport for London accepting Apple Pay, as this will create awareness and encourage adoption when it's part of everyone's daily lives," he says.
"But I believe Apple Pay needs merchants more than merchants need Apple Pay."
For Apple Pay to become mainstream in the UK, Husson says more retailers need to offer the service. And for more retailers to offer the service Apple needs to showcase the value for retailers, proving that it will increase sales and reduce costs. "And the jury is still out for merchants," Husson adds.
Loyalty schemes
Providing an extension of retailers' loyalty schemes may be one way to demonstrate Apple Pay as a worthwhile service. As part of Apple's digital wallet software upgrade this September, iOS9 will automatically present users' loyalty cards at the point of sale so they do not miss out on rewards.
"Loyalty features integrated in iOS9 will facilitate the check-out experience and add value beyond payments, which is great," adds Husson.
Spending limit
Husson notes that Apple Pay like all providers of contactless payments will have a limit on how much can be spent in one tap of a smartphone. For contactless debit and credit cards the UK limit is £20 at present, set to rise to £30 in September.
This cap is despite the fact that Apple Pay offers two-factor authentication with the addition of the fingerprint reader.
The cap also affects the type of retailers initially signing up to the service, benefiting businesses such as fast food restaurants like McDonald's and Pret a Manger, as well as the Post Office, Boots and Spar where transaction values frequently fall within the limit.
"It's about providing a faster checkout experience and reducing friction in stores, restaurants and train stations," says Husson.
It is therefore interesting that high-end department store Liberty was revealed as a launch partner.
Adoption of Apple Pay may of course help a retailer position itself as digitally savvy and modern.
But Miya Knights, senior research analyst at IDC, says retailers have told her the £20 industry cap has put them off installing contactless terminals in the past. "I can't imagine it will be any different for Apple Pay now," she says.
"This means they are limiting the payment method's suitability to low value, high transaction throughput businesses such as transport, quick service restaurants and takeaway outlets and convenience retail."
Digital payment solution
As well as an alternative way to pay for items in-store, Apple Pay is also a digital payment solution for online payments. Initial launch retailers include Argos, JD Sports, Miss Selfridge, Ocado, Topshop, Zalando and Zara.
Apple users purchasing from these websites will no longer need to manually fill in lengthy payment and shipping details because Apple will store the information in its digital wallet.
"Again the convenience for consumers is higher because it's simply faster to pay," says Husson.
The wallet is a similar idea to Visa's V.me digital wallet, which allows users to store multiple payments cards to purchase online. But the main difference is V.me is used for transactions made through mobile browsers, while Apple Pay is used for in-app purchases.
Security fears
While Apple's latest innovation is winning column inches, statistics from data marketing company Aimia – owner of the Nectar scheme – reveal a less than enthusiastic welcome for the system.
It found that 18- to 34-year-olds, the group most likely to adopt the latest technologies, are concerned about security fears relating to Apple Pay. 40% said they are worried about data security and a third do not trust the technology.
In contast, Forrester research of Apple device owners in the US has found that users are more likely to trust Apple (38%) to provide a mobile wallet than a bank (32%) or credit card network (30%).
With two opposing viewpoints when it comes to trust of Apple payments, it will be interesting to see how the UK will view its potential.
But one thing is certain: if it is anything like any of Apple's other inventions consumers will soon be queuing in shops, phones poised ready to tap.
Retail jury out ahead of Apple Pay launch in UK next month
1

2

3

4

Currently reading

What does Apple Pay's UK arrival mean for retailers?

5

6

7