The resurgence of BHS as an online-only retailer was certainly unexpected news and left us eager to see its new ecommerce site.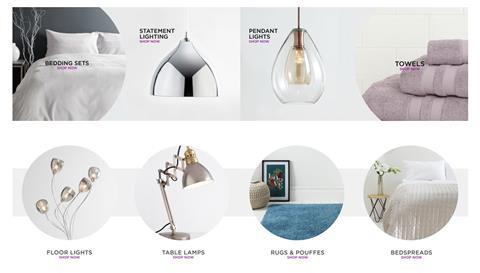 Hot off the digital press, Retail Week has reviewed the site looking at everything from product range, to delivery options, to check-out design.
While it is tempting to criticise the retailer for falling down in a number of areas, we have to give BHS.com considerable credit for launching the site so quickly.
With administration announced in early May and the acquisition of both its website and 70 international stores by Qatari group Al Mana revealed the following month, this left little time to build an entirely new site. We bear this in mind as we delve into the detail of the new proposition.
Small product range
The site features about 500 homeware items across bedding, curtains, rugs, cushions, bathroom mats, towels and lighting.
As expected, most items are priced competitively serving the lower end of the market. But the range size is very small compared to its previous offer and particularly compared with its competitors.
BHS is planning to grow the range to 1,500 to include dining, fashion and childrenswear.
But even then the offer is unlikely to be sufficient to attract shoppers away from the wider ranges of the likes of M&S, Debenhams and Next, which features more than 200 cushions alone.
Competitive service proposition
The service proposition is in much better shape: customers can benefit from a free standard delivery promotion at the moment and free returns.
Once the promotion ends, customers will pay £3.50 for orders under £50. Compared to its competitors the free delivery threshold is slightly higher, with M&S capping at £30 and Debenhams at £40.
BHS also has a next day delivery option, priced at for £6.95, on orders received before 5pm.
Disappointing user experience
BHS has gotten the very basic user experience elements right.
The site is responsive and features a clean design, easy navigation and there is quick, straightforward checkout process in place.
That's unfortunately where the user experience ends because there really isn't much functionality and content to play with.
In addition to the limited product range there are limited product details. The product detail page is sparsely populated with only one image per product, no zoom, no review functionality and no inspirational content or product edits.
Lastly, the omission of Paypal from the checkout is glaring given the popularity of this payment method.
Arguably, launching an ecommerce business in such a short time span is very ambitious and also impressive.
However, if BHS wants to woo back its 1.2million customers and attract a host of new ones it needs to make a number of improvements swiftly.
We recommend adding some excitement to the proposition. The range currently lacks breadth and depth.
Adding some exciting products at competitive prices would create some conversation and that could make up for what BHS lacks in size of range.
Further, its website clearly lacks common ecommerce functionality. Building out the features and content in order to create an immersive experience for their visitors should be a top priority for the team.
Annabel Thorburn is director of retail services at eCommera.