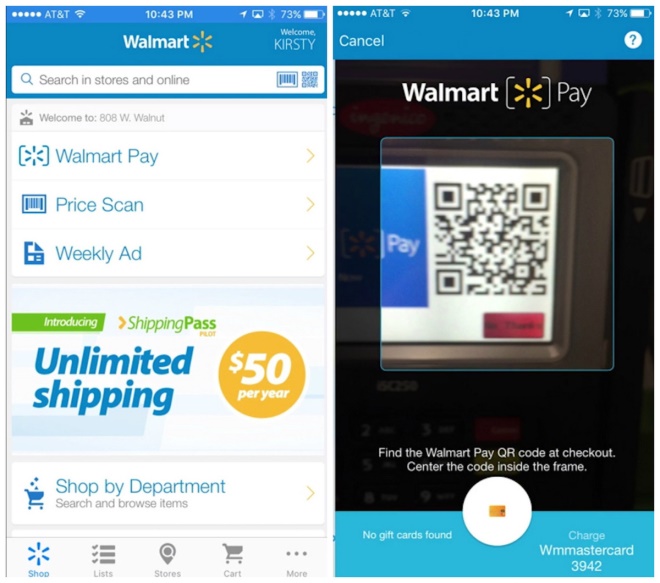 Walmart Pay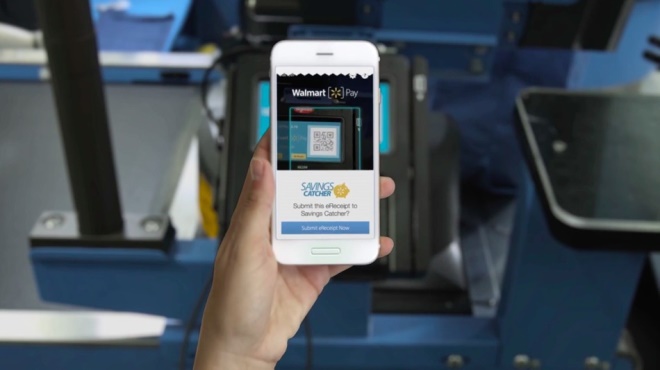 Walmart Pay
Walmart is poised to go toe-to-toe with technology giant Apple after launching its own mobile payment service via its existing smartphone app.
Walmart said the new system, which will use QR codes, would expand customer payment options and increase the speed of checkouts in its stores.
It comes as Sainsbury's – the big four rival of Walmart-owned grocer Asda – pilots similar technology in two of its revamped supermarkets in Alperton and Harpenden.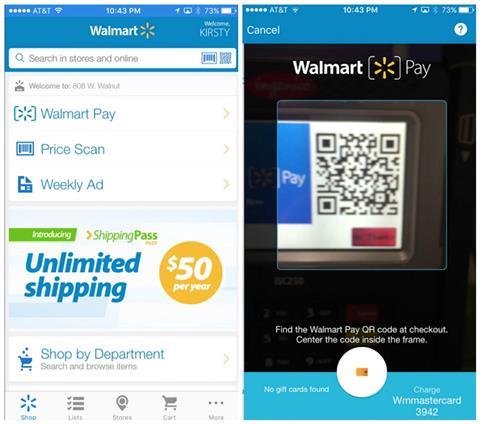 The supermarket giant is testing an early version of its SmartShop app, which will eventually allow consumers to compile shopping lists at home using their smartphones, create the best navigation guide around the store for the products being bought, scan products using their camera and enable payment by mobile through dedicated checkouts.
Walmart's payment service has been integrated into its existing app, meaning customers who have already downloaded it on their iOS or Android device can add a credit, debit or pre-paid gift card to their account.
When they reach the checkout, shoppers will be presented with a unique QR code, rather than using near field communication technology adopted by contactless systems Apple Pay and Android Pay.
Shoppers will be required to scan the code using their camera phone, a process that can be protected by a four-digit pin code, in order to pay for their basket. They will then receive an e-receipt via the app.
Roll-out
The retailer has introduced Walmart Pay to selected stores across the US today, although it declined to reveal which cities would benefit from the technology.
More stores will adopt Walmart Pay in the New Year, with bosses targeting a nationwide roll-out of the service by the first half of 2016, opening it up to 22 million shoppers who use Walmart's app every month.
The supermarket giant had already been working with a consortium of other retailers who had shunned Apple Pay in favour of developing their own mobile wallet called CurrentC, which was trialled back in August.
Walmart said its mobile payment service was developed independently from that project, but added that CurrentC could be integrated into its app in the future as a mobile wallet addition to Walmart Pay.