French fashion chain Comptoir des Contonnieres is rolling out a marketing campaign with a mobile element. Retail Week takes a look at the campaign in Paris.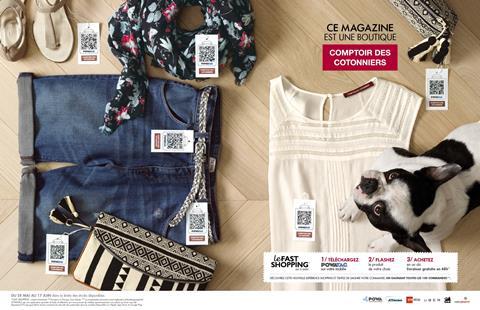 PowaTag is one of several companies desperately vying for dominance in the mobile market at the moment.
Founder and chief executive Dan Wagner is certainly not short of confidence in the company - he said at a press conference in Paris recently: "This is a hugely influential technology with the power to change consumer behaviour."
This may or may not end up being true - the mobile market is full of similarly clever technologies, and Wagner has a lot of retailers and shoppers to convince just yet.
But he does have a large number of well-known brands signed up, including Argos and Waitrose, and PowaTag has just scored its first big roll-out with French fashion chain Comptoir des Contonnieres, the stablemate of Uniqlo at Japanese conglomerate Fast Retailing.
The fashion chain has embedded QR codes into its current marketing campaign, with shoppers able to point their phones and purchase a product from 10,000 pieces of advertising content across France.
PowaTag's software can be used in a number of ways - all the retailer needs is a 'trigger', such as a QR code, an audio prompt, or an NFC reader, for instance, and an action it wants PowaTag's software to perform. One retailer might want to provide a QR code for shoppers to swipe at the till to automatically sign them up for its loyalty scheme. Another might want to use image recognition in its catalogue so shoppers can use their mobiles to scan a product image, before being taken to a page where they can buy. Another still could use the music in an advert to take shoppers to product pages if they hold their phones close to the speaker, working in a similar way to music app Shazam. See the video below for a demonstration of how this works.
The technology may not be the most cutting-edge, but no-one has been able to make this kind of project work commercially on a large scale just yet, so Comptoir is leading the way. Its ecommerce director Valerie Dassier is certainly convinced - she said at the Paris launch of its campaign: "We wanted an easy and secure way to provide an incredible new experience. This truly represents a revolution in retail shopping, marketing strategy, and it essentially transforms outdoor marketing media in to the new retail distributors."
See the video below to hear from Powatag's managing director for France, Georges Le Nigen, on how the retailer is using the technology.
PowaTag has entered a notoriously tricky market, however. Mobile payments and mobile marketing have both been floundering in the early stages of development for what seems like years, but big roll-outs from any major retailer are few and far between. The most interesting work on mobile has tended to come from within retailers' innovation teams themselves, as initiatives such as Tesco Labs drive the sector forward.
There are dozens of interesting suppliers in the market, but gaining a foothold has so far proven difficult. Retailers want to keep any trials a closely guarded secret, making PowaTag's PR-heavy approach an unusual one. PowaTag is also aided by the fact that many of its clients are also customers of Venda - Wagner's older ecommerce platform - making it easier to convince them to try it.
As of yet, no mobile vendor has managed to crack the market, and none seem really clear about what will help them get there. If critical mass among retailers is what's needed, PowaTag does appear to be among the potential leaders - it is working on proof-of-concept ideas with dozens of brands, including Waitrose, Argos and JD Sports, and others such as Laura Ashley and Schuh are said to be nearly ready to roll it out.
Retailers generally prefer to be among the fast movers when it comes to new technologies - they prefer to follow close behind a leader, rather than be a leader themselves. It's a naturally conservative industry, and there is a fear of investing money and time in the wrong thing.
If PowaTag can convince a few to roll out, others are likely to follow quickly. The coming 12 months will be critical for mobile companies - both in terms of how many retailers they can persuade to roll out the technology, and how compelling the numbers are once they do.