Start-ups in retail technology are growing and Retail Week is highlighting some of the best. This week Photospire is in the spotlight.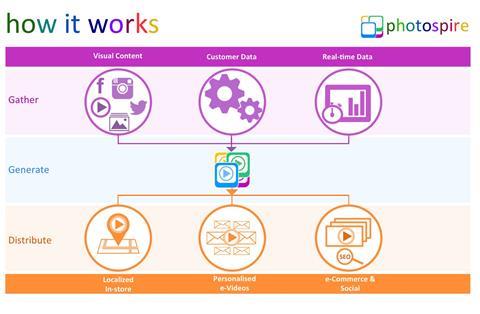 Photospire creates video content for retailers to strengthen their brand and was a finalist in Retail Week Live's Innovation Campus. Co-founder and chief executive Ger O'Meara explains how it works.
Key facts
Founded: May 2014
Investment: Investment from start-up accelerator program True Capital.
Retail partners: "We are in private beta currently with a selection of UK retailers" says Ger O'Meara.
Founders: Ger and Dave O'Meara
What it does
Photospire creates visual product stories; video content for a retailer that stars its customers and is produced by its staff.
Ger O'Meara says it delivers "inspirational product videos and images that include informative, engaging content in story format".
The technology gathers content from customers, staff and social media then merges it with dynamic product data to generate and distribute visual product stories.
The visual product stories work in store on tablets, digital displays and with beacons. Online, stories are shared socially and embedded on product pages to engage shoppers.
O'Meara says: "Photospire empowers retailers to efficiently create targeted content that tells the brand's story in real time."
What problem for retailers does the technology solve?
O'Meara predicts that authentic customer-generated visual content is part of the future of retail. "Photospire engages customers with targeted product-linked visual content and inspires purchasing decisions in store and online. Post-sale, customers can become ambassadors and part of the brand's story, they feel emotionally rewarded and share this socially."
He adds that retailers need quality, visual product content that is targeted, engaging and current to stand out in a busy market. Using Photospire, he says, saves time as well as IT and design costs.
More information: photospire.co.uk