Start-ups in retail technology are growing quickly and Retail Week is highlighting some of the best. This week Whisbi is in the spotlight.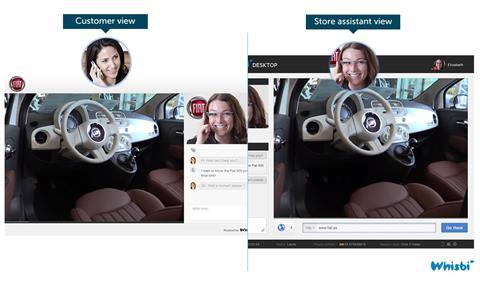 Whisbi allows e-commerce businesses to offer their web customers an offline experience by showing products in real time. Luigi Mallardo, vice president of global sales and marketing, explains more.
Whisbi
Founded: 2008
Investment: Series B in 2014 from BDMI and Active Venture
Founders: Alex Bisbe, CEO & Co-founder, Jose Luis Cantero, CTO & Co-founder
Retail partners: Global retail & e-commerce businesses of all sizes, most notably Vodafone, Fiat and Telefonica
What it does
Whisbi's recently developed technology lets companies 'teleport' their online customers to physical stores, showrooms or any other place they want in seconds. Online visitors become able to see the products in all their dimensions, through the eyes of the sales assistants, via real-time video streamed with Google Glass or an Android smartphone camera.
Retailers are able to share this 'in-store' experience with online visitors as part of an interactive online session activated in less than five seconds, synchronising phone call, video streaming, co-browsing, chat and tracking all at once.
What problem for retailers does the technology solve?
Luigi Mallardo says Whisbi opens a new chapter in the omnichannel retail revolution by helping companies establish a better fusion between online and offline sales. He continues: "Our disruptive solution is made for retail and ecommerce businesses that understand the value of showing their physical products to remote customers in their entirety, similar to a real in-store experience. With Whisbi, businesses can increase e-commerce sales conversion in real time, make their retail stores and sales people more productive and create a one-of-a-kind customer experience that differentiates them from competitors."
More information