The number of small, fast-growth technology companies is growing quickly in retail, and Retail Week is highlighting some of the best - this week CloudTags is in the spotlight.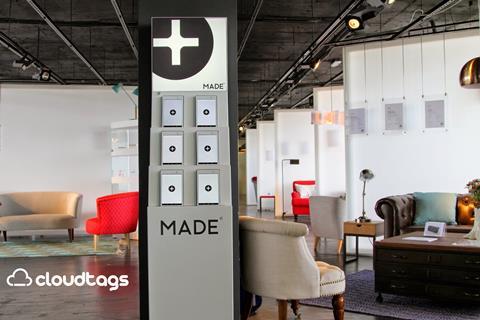 Stephen Millard, head of start-up accelerator Eccomplished has nominated CloudTags as start-up of the week.
Cloud Tags
Founded: 2011
Investment: $400k Founders Equity, $580k in Notes from angel investors
Retail partners: Harvey Nichols, furniture etailer Made.com,
Founders: James Yancey, Michael Glass, Ollie Bath
What it does:
CloudTags has built the platform that powers creation of "intent data" in the physical retail environment. It allows physical store shoppers to create a digital collection of everything they interact with in the store. The technology is being piloted with luxury retailers through creative in-store experiences using tablets, beacons, and product scanning to engage customers in the physical store. These experiences allow customers to have personalized and curated interaction with products, driving engagement and omnichannel sales, while providing the retailer with valuable intent data.
Why it is relevant to retailers:
Showrooms are becoming more experiential versus transactional, with customers wanting more personalization across channels. Currently in retail, there are companies that drive customers into a store and there are companies that reengage physical store shoppers after they've left based on purchase data, but tracking intent data to see what shoppers looked at but didn't buy and using that to provide intelligent re-engagement marketing is a nascent space. CloudTags is interesting because it allows brands to get advanced insight on the products their shoppers engage with in their physical stores and can customize the experience real-time based on each individual's preferences and behavior.