The 24-hour Retail Week House of Fraser Hackathon in association with Infosys starts on September 15. We look at why businesses should enter the unique event.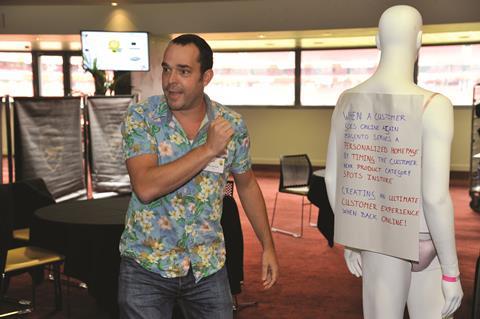 As the rise in use of digital technology continues to transform shopping and retailing, the Hackathon gives businesses the opportunity to create potentially transformational innovations.
The Retail Week House of Fraser Hackathon in association with Infosys, to be held alongside the Retail Week Tech & Ecomm event on September 15 and 16, brings together retailers and tech start-ups over an intense 24 hours to develop inspiring solutions that have direct business relevance.
This year's challenge is to simplify the multichannel shopping experience for customers.
Retailers ranging from John Lewis to Argos have all created innovation labs or hubs, but the Hackathon is the only event in the industry of its type.
It is an opportunity for the whole retail industry to participate in and to benefit from fresh ways of thinking and the creation of products that can click with consumers and bring competitive advantage.
Enter a team into the Hackathon
The 24-hour hackathon will start on September 15 and three finalists will pitch their solution live on stage to an audience of senior retailers on September 16 during the Retail Week Tech & Ecomm conference.
The audience will judge the most innovative solution and the chosen team will be crowned Retail Week Hackathon 2015 winner.
How to enter:
First put together a team.
Each team can be a mixture of disciplines such as technology, marketing, product or user experience.
The maximum number of team members is five.
Ensure you have one person who is comfortable pitching the idea on stage.
All entries must be submitted by Friday August 7.
Last year's winner
The winner of last year's Hackathon, Dutch business Kega, which specialises in "the interface between marketing and IT", provides the perfect example of what the event delivers.
Any retailer operating online knows that basket abandonment is one of the biggest bugbears they must confront. Kega came up with a solution based on linking online shopper behaviour with in-store beacon technology.
The idea was that if a consumer leaves a product abandoned in their online basket, the system will remember that item.
Then, when they next pass the retailer's store, it will send messages to their mobile with promotions prompting them to buy it.
Reputation boosted
Julian Burnett, former John Lewis head of IT strategy and architecture and a judge at last year's Hackathon, said of Kega's innovation: "We retailers are struggling with how to get an end-to-end customer experience that recognises the difference between the online and offline worlds.
"We know that the benefit of an omnichannel experience increases shoppers' spend by two to four times as much and the customer really values a seamless experience online and offline.
"The development from Kega made me realise what might happen quite quickly."
"We received a lot of positive feedback and it made the brand much more known"

Kees Verkade, Kega
Kega founder Kees Verkade said the event was invaluable for his team.
He recalls: "I still remember the trip back to The Netherlands where the whole team was bouncing through the airport even though they had not slept for over 40 hours."
And it boosted Kega's reputation. "We received a lot of positive feedback and it made the brand much more known," Verkade says.
Judging panel
This year Retail Week and House of Fraser have assembled a team of judges who bring wide experience of new technology and its applications in retail.
They range from online fashion specialist Farfetch's senior vice-president, technology, David Lindsay, to House of Fraser's head of online engagement, Madeleine Melson.
The judges will select a shortlist of the best ideas from among the teams at the Hackathon, which will then be presented to the Tech & Ecomm audience who will vote on a winner.
The Hackathon is designed to create an environment where retail innovation can flourish. Expect to be amazed when the industry's brightest minds come together to light sparks and create magic.