Pigs might fly as a cider company pilots playful drones, Tesco's job will leave you tied up in knots and the choppy waters facing a surfing brand.
Pigs might fly thanks to UK cider brand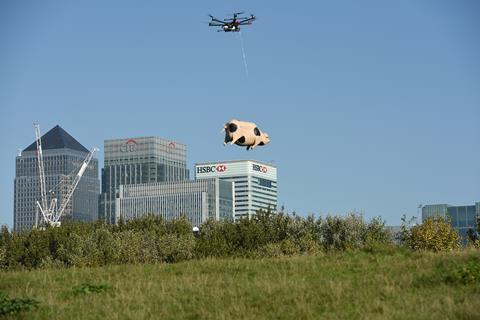 Amazon and Walmart might be taking fulfilment to the next level by trialling the use of drones in US airspace, but a British craft cider company is taking it one step further – by making pigs fly. British cider brand Orchard Pig is piloting the "humorous and playful" delivery method after incorporating the Gloucester Old Spots species into it drones. Although only in its test phase, bosses hope a fully-fledged pig drone delivery service could be up and running as soon as next summer. It's an idea that could well bring home the bacon.
Tesco job will leave you tied up in knots
Thousands of temporary Christmas workers will be taken on across the country as retailers prepare for a sales rush, but job-hunters could be in for a festive fright from one particular vacancy. Supermarket giant Tesco is hiring for a Christmas light detangler, which could leave the successful applicant tied up in knots. The advertisement for the position, which Tesco said is the first of its kind in the UK, appeals for someone who can "untangle a set of Christmas lights in under three minutes". A typical day in the role at the Tesco Extra store in Wrexham could involve untangling up to 60 sets of fairy lights. It might take more than a glass of eggnog to get through that.
Surfer's ethical fashion brand faces choppy waters
Pro surfer Kelly Slater is on a mission to convince the fashion industry and consumers that the 'pile 'em high sell 'em cheap' trend is the wrong way to go.
Slater wants to prove that his sustainable casualwear clothing label Outerknown – backed by French luxury goods firm Kering and made from sustainable sources with impeccable ethical credentials in the supply chain – can succeed.
However, since the brand's launch, Slater has faced a wave of online critisism from some fans over the prices. The range includes an organic cotton sweater retailing at £355. "Our launch was met with a lot of critics and hate," Florida-born Kelly told fashion students at a Kering-hosted event at the London College of Fashion last week. "I take it as a compliment."
Clearly Slater is facing choppy waters in the fashion world. Watching how the 11-times world champion rides out this particular wave will make for fascinating viewing.