John Walden, chairman of the Digital High Streets Advisory Board, talks to Retail Week about his plans to transform the high street.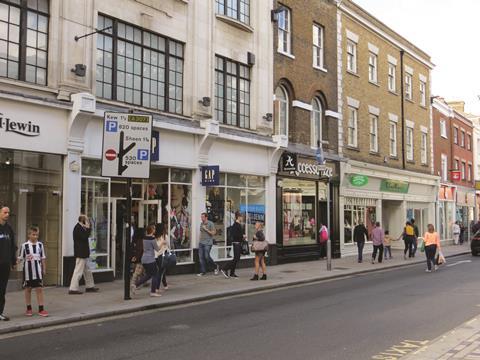 Why did you get involved in the Digital High Streets Advisory Board?
I'm just willing to help, as silly as that sounds.
The Government set up the Future High Streets Forum to help our high streets. I'm happy to be involved in that. But the issue I see every day that seems to have the biggest impact on the competitiveness of our high streets is the digital revolution. It doesn't normally make it as one of the factors when people discuss revitalising the high street, but I think it's the most impactful. The Government wanted a business point of view to try and address the revitalisation of high streets in a digital future.
At Argos, we sit on virtually every high street in the country, so we care very much about the vibrancy of our high streets. And given our strategy for the business is to be seen as a digital leader, we are very much at the heart of the subject of the issue, which is how to make high streets fit in a digital future.
What are your thoughts on the digital skills gap?
There are two dimensions to the skills gap. First is a gap in very basic digital skills. There are people who don't use online at all, can't communicate or research online. Twenty percent of citizens, and over 30% of SMEs and charities can't even do the basic level. For us to recommend strategic solutions for getting the country online and getting high streets to be vibrant you have to address that basic gap first.
The second component is higher-level skill, which means getting small businesses to be able to do business online. That requires a bit more than basically connecting, and a bit more understanding of technologies and tools. That is the work the Advisory Board is to address.
Tell us more about the High Street Digital Lab, which will aim to provide 1,200 UK towns with ready-to-use digital capabilities and town-specific skills training
The Lab hasn't opened yet, but it is a strategic recommendation. The challenge to get the various communities, merchants, charities and public services online is a big ask. More than 50% of the small and medium-sized businesses and charities don't even have websites today.
The Lab is a construct that we think could probably work – it combines people with expertise that can pull together the package of things that could quickly get people online and operating in a digital world, with the local element of getting a couple of apprentices in each local market to take a standardised approach, to work locally and generate interest and demand.
The local authorities would then take local responsibility to help implement the tools and training provided through the Lab. And if there are applications and technologies out there already which would make things easier – such as parking in town centres – the Lab will go out there and find the apps which are most interesting to local communities, package them up and take them to the local communities.
What are the benefits of a healthy high street to larger retailers?
What we're seeing in the country is a lot of big businesses, both national international, that are making aggressive investment in digital. So I think big business is in a good place and is making the necessary investments.
There is quite a gap between our businesses and most of what comprises the high street. For us it won't be a vibrant high street if it's only us big guys that are succeeding. We really need the whole of the high street – small shops, independent shops, charities, libraries, all kinds of small businesses - we'd like everybody to be successful, because it helps all of us to be successful.
How does the US high street compare to the UK's?
The States doesn't have nearly as much of a high street culture as we do here. Thirty to 40 years ago the US used to have a lot of small towns and villages. But over time it consolidated in the metropolitan areas, and town centres have gradually eroded. The concept of a high street has gone away largely and big giant shopping centres dominate the retail scene.
It's changing a bit and people are moving to smaller shops in denser areas. But I would say over here there's much more of a high street culture and people are much more used to shopping locally, shopping with friendly faces and people they know. It is more convenience-based than in the US and that's something I'd like to preserve, because it's not only good for businesses in those areas, but for the social fabric of the communities.