Advertising agency Future Ad Labs has designed an interactive advertising format – PlayCaptcha – to increase shopper engagement and put an end to frustration over online security features.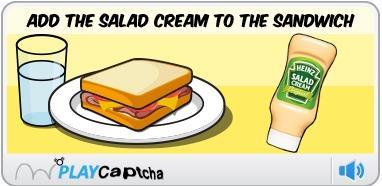 The agency has designed a new way for retailers and brands to carry out security checks as an alternative to CAPTCHAs – the security feature that asks users to rewrite distorted words to prove that they are human and not a computer. The security feature is commonly found when completing a sign up form or at the point of purchase to protect the website from spammers and bots.
PlayCaptcha is an alternative which aims to provide a more engaging and fun user experience, designed by the agency's scientists, engineers and gaming experts.
It has already signed up Heinz and Reckitt Benckiser and is "in talks with leading retailers but cannot confirm any details at present" said chief executive and co-founder Howard Kingston.
For Heinz, the PlayCaptcha invites users to pour a virtual bottle of Salad Cream onto a sandwich. For Reckitt Benckiser, the PlayCaptcha asks users to clean a virtual dirty penny by dragging it into a bowl of Cillit Bang.
Retailers have long found CAPTCHAs to be a frustration to customers. Future Ad Labs estimates at least 300 million CAPTCHAs are completed every day.
The partnership with Heinz and Future Ad Labs was facilitated by The Bakery, a Tech City investment and accelerator business.