With the likes of Facebook and Google offering huge salaries to tech talent, Retail Week looks at what retailers can do to compete
In today's data-driven retail world, every business is seeking the best tech talent to optimise their website, devise killer algorithms and integrate new technologies.
But competition is fierce. Not just from other retailers but from businesses across every sector – including tech giants such as Google and Facebook.
Staff at Google's UK offices earned an average £226,000, including share payouts, last year. Meanwhile, the average median salary at Facebook globally was $240,000 (£184,000) in 2017.
But salary isn't everything. How else can retailers entice tech specialists to their business?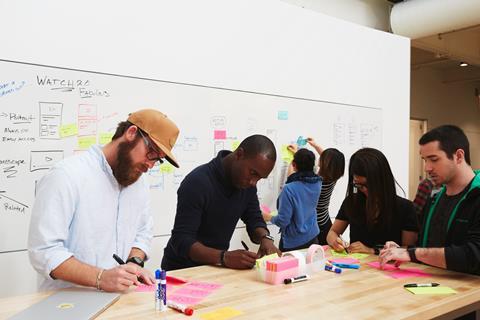 Rewards
Orlando Martins, chief executive of executive search firm Oresa, is blunt – retailers simply cannot compete with the big technology firms on salary.
"They typically can't reach the compensation levels that the large tech companies can offer," he says.
"If they are trying to recruit from those companies, very often it would put their general remuneration policy out of line."
However, AI specialist Satalia's chief executive, Daniel Hulme, insists that for this type of talent, money is not the be all and end all.
"Top talent is really interested in much more than just the salary, the ping pong table and dress-down Friday"

Will Bourne, Nicoll Curtin
Hulme knows how tech specialists think. Not only does he hire them at Satalia, he is director of University College London's business analytics masters course.
He says offering £80,000 a year, as opposed to the hundreds of thousands on offer at Google and Facebook, is adequate to get the best candidates to consider your company.
"As soon as you go above that the money becomes less important," Hulme says. "It's more about your working experience and the projects you're working on."
Academic research backs up Hulme's assertion. Researchers from Purdue University in the USA found last year that the ideal income for life satisfaction is $95,000 (£73,000), while $60,000 (£46,000) to $75,000 (£58,000) is the ideal amount for emotional wellbeing.
The ideal remuneration package for a tech employee has little to do with the money, says Will Bourne, director of technology and transformation at recruitment firm Nicoll Curtin.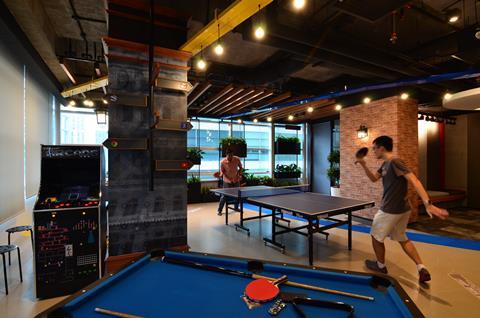 "Top talent is really interested in much more than just the salary, the heritage of a company and the ping pong table and dress-down Friday on offer.
"It's not about the money. Ultimately a lot of them will take a £10k or £20k drop in salary to get involved in highly innovative tech systems and work on modern, agile technology platforms," he says.
"It's nice to have but they care about the culture of the business they're going into. Is it an innovative company and changing the way people think, use and interact with tech?
"If you walk into a company that's got software systems that are 10 years out of date and they're not trying to innovate, people aren't going to be interested in that."
Dixons Carphone ecommerce director Stuart Ramage says this type of employee values flexibility around working hours, location and working from home. He says this is something the retailer has "championed for quite a while".
"It's certainly high up on the list of points when we're going through interview processes," Ramage explains.
Bourne agrees and recommends that retailers give these individuals the freedom and flexibility to pursue their own interests.
"A lot of these guys and girls will have a side project. In web development, for example, a lot of people run part-time hobby jobs where they're doing people's websites or creating apps alongside their jobs," he says.
Bourne says a lot of traditional businesses will be uncomfortable with this set-up, but more innovative companies are accepting of this.
Creating the right working environment is also key – and this means more than just ping pong tables and giant slides in the office. Retailers need to develop a workplace and introduce perks that appeal to these workers.
Nicoll Curtin consultant Rob Sinclair says: "Companies such as Facebook, Google and Amazon are providing a more relaxed, fluid and open environment for employees to hone in on their passion, which encourages them to become a master in their chosen field.
"Providing this environment allows employees to feel comfortable in the work place, which normally means more productivity and more time spent working on their projects."
Sinclair highlights that onsite benefits offered by technology companies, such as free meals, health check-ups, dental care, haircuts and laundry services promote more time spent in work and on campus
Projects with purpose
With it being difficult to compete on salary and incentives, retailers need to think of other ways to attract tech experts, and commentators think the type of projects available to work on can woo them.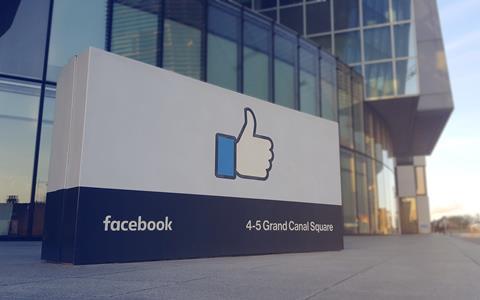 Martins says tech specialists are searching for something more meaningful and retailers that have a strong sense of purpose and interesting projects can be appealing.
"If the retailer shows people they can make a real difference and make a commercial impact, I think that becomes really interesting," he adds.
The job title on offer is also important, Martins says, who points out that technology companies such as Google and Facebook tend to have flat structures.
"In retail, they can show potential employees they can grow leaders because retail is a far more vertical model," he continues.
"You have the opportunity to move from a junior manager to a head-of to a director, whereas in Google you may get salary increases but don't actually move up level-wise at all in a meaningful way."
At online retailer The Hut Group, which focuses on recruiting maths and science graduates straight from top universities, it is not uncommon to have employees in their early-to-mid 20s with a managing director job title.
"Everyone's completely free to do whatever they want. They can work on whatever projects they want, wherever they want"

Daniel Hulme, Satalia
However, Hulme points out that hierarchy can be a bad thing. In fact, at Satalia, there is no hierarchy.
"Everyone's completely free to do whatever they want. They can work on whatever projects they want, wherever they want," he says.
"I would argue that hierarchical structures and traditional organisational structures threaten people's dignity. They stifle people's ability to innovate and I'm trying to create an organisational structure that essentially allows people to operate like a swarm. Nobody in my company in 10 years has had to tell anyone else what to do.
"What we do is provide information to people and they allocate themselves to work that aligns with their own values and hopefully aligns with the aspirations of the organisation. It frees up people and that allows them to work on cool things."
Location, location, location
Where you are located can be a big factor on whether you can attract the best tech talent. For some, Shoreditch – the tech and digital hub in east London – is the place to be.
Ecommerce goliath Amazon opened its new UK headquarters, covering 15 storeys and 600,000 sq ft, in Shoreditch in 2017.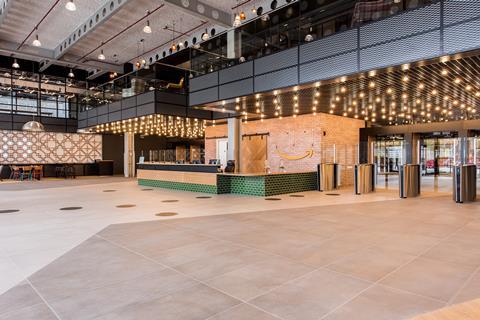 Other retailers have opened dedicated offices for tech and digital staff in Shoreditch including River Island.
Ramage says east London is still "quite a pull" for those working in digital.
But while London is thriving with talent, it's also awash with competition for candidates from big businesses across every sector, not to mention the big tech giants.
Some retailers have taken a different approach and moved outside of the capital to attract tech talent.
Last October, Moonpig, which is headquartered in London, opened a designated tech hub in Manchester, which has become a digital retail hub with businesses such as Boohoo, The Hut Group and Missguided based there.
Moonpig chief technology officer Peter Donlon told The Business Desk: "We selected Manchester for its thriving tech scene and wealth of exceptional talent."
Other retailers have opened offices overseas to harness tech talent. Ocado Technology has offices in Kraków and Wrocław in Poland, Sofia and Barcelona, while German ecommerce titan Zalando has tech hubs in Dublin, Helsinki and Lisbon.
Zalando operational lead of its Lisbon hub Anna Lamik told Retail Week last year the city was a perfect choice to attract tech talent.
"Lisbon hosts an excellent tech ecosystem with a lot of start-ups and an active community of tech experts and has low living costs and an attractive vibe for locals as well as internationals, allowing us to attract talent," she said.
She added that its strong educational system also makes access to high levels of talent a very attractive prospect for the company. "They have helped boost our profile and brought in new perspectives on our products from all angles," she said.
Bourne says retailers must do their due diligence before moving location and recommends moving close to top colleges and universities for tech-related degrees.
Hulme argues that businesses should not be hampered by their physical locations. He says one of the best teams in his business has six people who work across different countries.
"They operate incredibly well and if you wanted to try and attract the best talent globally you need to give them freedom to work from wherever they want," he says.
Training and universities
Joining up with universities can also be a good way of getting smart tech graduates to choose to join your business at the early stage of their career. Dixons Carphone has partnered with various universities up and down the UK, including Edinburgh where it sponsors a data science and digital analytics course.
Alongside the university course, Dixons Carphone runs a centralised management graduation scheme.
"We take in 20-plus grads annually and then we've got some specific grad schemes in some of the larger departments within digital," Ramage explains.
"We've had an intake of three grads annually of the last few years purely in a digital space. We're finding partnering with institutions like that a really positive experience.
"Not just in terms of securing individuals but getting insights and working with and being able to utilise some of the resources that those institutions have, and there's more of that to come, but they are definitely a key part in bringing talent in to the business."
Some retailers have focused on developing tech talent themselves rather than fighting for in-demand candidates.
N Brown has partnered with skills bootcamp training company Codenation to train its staff.
N Brown chief information officer Adam Warne says: "In 12 weeks, it can take someone with no skills in digital to roughly graduate level. We need to look differently at the market when recruiting talent."
Retention
Once you've secured the tech talent, keeping them in the role can be a sizeable hurdle.
Specialists such as data scientists tend to move jobs regularly, be it because of the strength of demand from other employers or the desire for a new challenge.
In 2016, the average tenure for a data scientist was two years, according to recruiter Burtch Works. Meanwhile, a survey by Google-owned data science firm Kaggle found most data specialists spend one to two hours a week looking for a new job. The survey of 64,000 developers found 14.3% of machine learning specialists and 13.2% of data scientists were looking for a new role.
"Retailers need to keep people challenged and interested, which means they need to have ownership and accountability of a project"

Orlando Martins, Oresa
Martins says there are tactics retailers can adopt to help prolong the tenures of this in-demand talent pool.
"Retailers need to keep people challenged and interested, which means they need to have ownership and accountability of a project," Martins explains. "Whatever that project is, it's more important for them to finish that and to have that on their CV and a tick against it than it is to move jobs. I think that's the tech mentality."
Ramage says Dixons Carphone has had success in retaining digital specialists by becoming less focused on smaller tasks and projects with finite end dates, which had resulted in people "rolling on and off every three, six or nine months."
The retailer now creates teams of people that have a vested interest in the strategic direction of the product they are developing. "Those product squads will last 18 months to two years and they will have a real vested interest in driving strategic change within the organisation," Ramage says.
Long-term incentive plans can also keep talent onboard. Firms such as Google and Apple offer employee stock options, the rewards of which can be substantial, to help retain staff.
"The large tech companies keep or manage their retention because they are all normally on long-term incentive plans. The payout for those tend to be pretty generous," Martins adds.
Perhaps retailers need to take a similar tack to make sure they entice digital experts to stay longer at their company.
It is possible to compete with tech giants for top talent without the need for table tennis and slides, and £200,000 salaries aren't necessary when companies can offer flexibility, project ownership and meaningful career progress.