Visa's hero market for contactless payments is Bratislava, where 1 million contactless transactions take place every
month.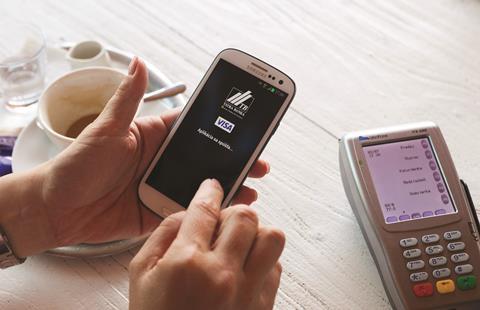 The mobile and contactless payments industry has become a messy business. While markets such as Japan have been using the technology for years, in the UK and Europe it's a different story. In every country myriad mobile network operators and banks have found it a struggle to tread a common path.
The result in the UK is that it's not possible at present to purchase a mobile phone that allows people to pay using the SIM card. A few banks, such as The Royal Bank of Scotland, offer contactless 'stickers' that can be attached to mobiles and loaded with money, enabling shoppers to use near field communication (NFC) readers with their phones.
But as of yet, no UK mobile operators and banks have managed to launch a partnership service.
Not so in Slovakia - there, Tatra Banka has joined up with O2 to enable its customers to use their mobile phones as Visa debit cards, via the O2 Wallet service. The service works on any NFC-enabled phone, and the bank offers an NFC sticker for iPhones, which don't have NFC chips.
The service is straightforward - for any transaction under E20 (£17.10), customers simply swipe their phone against a reader. For any transaction over that amount at participating retailers, they must enter a PIN before swiping.
Open to innovation
Visa describes the Slovakian capital Bratislava as its "hero market" for contactless payments - there are 1 million contactless transactions there per month, 36% of terminals are contactless and in 2012 E16m (£13.8m) of transactions were contactless, compared with E3.3m (£2.83m) in 2011. The business says it's the country's attitude to innovation that makes the difference and that is driving uptake.
"Slovakians are very open to innovation, they like to try new technologies," says Lucia Sudova, head of retail at Tatra Bank.
At the moment, contactless payments are mainly made using cards. Tatra Bank says only a couple of thousand customers are using mobile payments at present, and it needs other banks and mobile operators to start offering the service before growth becomes more serious.
"We wanted to innovate and show the market mobile payments are here," says Sudova. "Now we need our
competitors to come so the market can develop and customers can adapt more easily."
The other big driver, she adds, is big retailers - if they offer the service, shoppers will flock to it more readily.
Teething problems
Using the service in Bratislava is certainly simple from a customer point of view, but there are inevitable slip-ups and teething problems when shoppers first start using their mobiles to pay.
On Retail Week's shopping trip to Bratislava, it was not always clear which stores in a central shopping mall accepted mobile payments, or whether they accept any amount or only transactions under E20. There were some embarrassing incidents when purchases had to be left behind and that is despite being armed with a list of stores that accept the technology. But once these initial issues are overcome, there's no doubt the service is quick and easy. Many of these problems will also disappear once the service is more widespread.
Payments processors such as Visa are particularly keen to roll out the service. The company's head of mobile for Europe, Sandra Alzetta, says it wants mobile payments to displace cash. "Despite our best efforts, there's still some cash floating around. We hate it with a passion - it's unhygienic and expensive to handle," she maintains.
But unfortunately, the banks are proving difficult to persuade. David Oliver, a partner at PwC, says banks are waiting to see which platforms will emerge as the winners before taking the plunge and investing.
Without a higher number of partnerships between banks and operators, the market will remain in a stagnant state, although rumours abound that Vodafone is poised to announce a partnership in the UK later this year or early next.
Companies such as Visa are chomping at the bit for such partnerships to come to fruition. "No one can do it by themselves - partnerships are what's key to mobile payments," says Alzetta. "I would challenge anyone who thinks they can do it themselves."
Retailers seem keen as well. Several big UK names including Waitrose and Marks & Spencer have rolled out contactless terminals. But until more mobile payments services are offered, little else can be done on the retail side.
Convenience is key
DM is a German convenience chain that accepts mobile payments across its 121-strong Slovakian store estate.
Lubomir Franta, a board member at the Slovakian operation, says it wanted to roll out the service because it's convenient for shoppers. "We want to provide good service and one of the characteristics of good service is speed."
Franta says Slovakia will be one of the first European markets to adopt mobile payments because it already has unusually high debit card usage, making transitions fairly simple. "Mobile payment is still in the beginning but it's growing," he says. The service is straightforward for retailers and consumers. Beyond the initial costs of terminals, which will be updated by retailers as their IT replacement schedule allows, there are plenty of benefits - queues are cut and cash-handling costs reduced.
The problem is the apparent state of stalemate between banks and mobile network operators, which shows no sign of abating. The future might be possible to find in a handful of Slovakian stores but there's a fair bit of wrangling to go before the destination is reached.
How mobile payments work
A mobile payments service requires input from mobile networks such as O2 and Vodafone, and banks such as HSBC. The mobile operators must enable their SIM cards to be linked to a shopper's bank account, making the whole process seamless for the customer - at least in theory.
The banks, meanwhile, must work with the operators to make the service secure and share their data. If mobile payments are to become truly ubiquitous, every bank would need to partner with every mobile operator to ensure any customer with an NFC-enabled phone can spend money directly from their bank account. There are already plenty of NFC-enabled phones on the market.
Retailers' co-operation is needed because they have to purchase contactless terminals. Plenty of big retailers such as Marks & Spencer have already done this, and the terminals that read contactless cards can also read NFC-enabled phones.
Banks can sidestep the mobile networks by offering their own NFC stickers, which are attached to the outside of phones. Shoppers can then download an app that will ask for their PIN and then use their phone to pay. However, most of the time the stickers will be separate to the consumer's main current account - customers need to pre-load the service with money, which is different to mobile wallet services.
The tipping point will come when enough banks team up with enough mobile operators to make mobile payments widely available. But with no such partnerships at present available in the UK and Apple phones not yet NFC-enabled, widespread adoption is some way off.