The Oculus Rift is a virtual reality headset that provides a completely immersive experience, allowing users to feel as though they are present in a virtual world.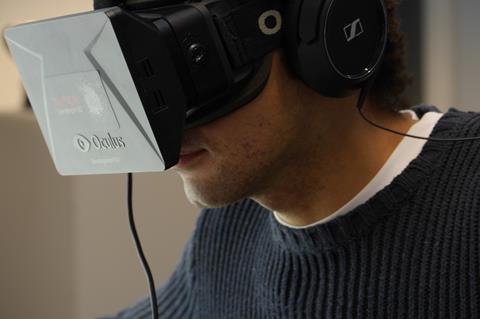 Topshop is using it to give shoppers the chance to feel what it's like to be on the front row at its Unique fashion show, and there are myriad other opportunities for retailers.
Andy Millns, co-founder and creative director at Inition, the agency working with Topshop, said: "It is pretty much the ultimate interface for any digital content."
Oculus VR, the company behind the device, came into being after it raised $2.4 million via a Kickstarter funding campaign in 2012. In December 2013 it announced it had raised $75 million in venture capital funding, and the company is still working on making the Oculus Rift commercially ready.
Agencies such as Inition, which is also working with Selfridges and provides 3D graphics and technologies, are working with retailers and brands on how the Rift could be used.
The device currently available is the early developer's version, and the company is working on the next model, which should be available to consumers soon. Oculus VR originally aimed the Rift at the gaming marketing, but the developer community has shown the device has potential far beyond that.
Millns said: "The main focus was on games, but it has been picked up by other people who are experimenting with lots of different things."
There are potential uses in the film, retail and advertising worlds for a start.
Millns says: "It's very new for brands. Even the idea of constructing a virtual space is new, but it offers huge possibilities." One idea is to play existing film content in the space, while another could be to build a virtual store that is a replica of your flagship which people could shop in at home. "When you can build a world from scratch there's never ending possibilities."
It's not just about retail theatre in-store, either. "You could put people in a place they could never go to, or a place with limited access."
Millns adds that augmented reality technology, where shoppers can wave their phones over a real world image to be shown video or other content, could converge with virtual reality. "You could create an entirely virtual world or it could be a mix of virtual and physical."
Devices such as the Rift could also be combined with Google Glass. While the Glass is designed to be light and mobile, the Rift is designed to provide as big an image and encompassing an experience as possible. "At some point these will converge," Millns says.
Building virtual worlds isn't a brand new idea – as Millns points out, sites such as Second Life were early iterations of the idea. "You could do it before, viewing it on a flat screen, but it was never really that satisfying."
But as the technology becomes more affordable and advanced, the ideas will be never ending – Millns adds there are likely to be virtual reality social networks, for instance. "There's probably going to be a Facebook of virtual reality – a huge online social platform that will allow retailers to have a presence. It's something that will inevitably happen."
And Millns says it won't just all be about the Oculus Rift. "The technology is easily copied and we'll see lots of different players. Sony could well bring one out, and I suspect that mobile phone manufacturers will bring out a device."
Plus, head-mounted displays will evolve. "At the moment, they are only displays – they still need to be connected to a computer which produces all the graphics and provides the processing power. In the future, however, these devices will get smaller and more mobile."
Video: Topshop gives shoppers London Fashion Week virtual front row experience
1

2

3

Currently reading

Analysis: What is the Oculus Rift and how could it be used in retail?

4