The evolution of mobile has seen retailers move on from straightforward apps and mobile sites to look at using mobile in other ways.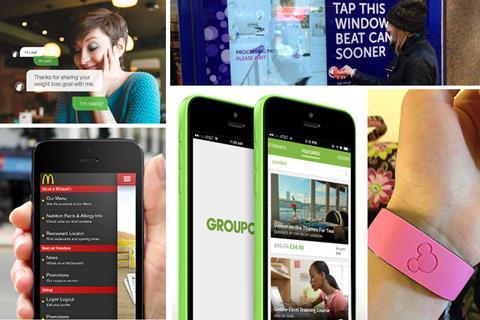 From improving convenience to more creative approaches to loyalty and boosting engagement. Businesses are starting to use newer technologies as part of their mobile strategies, with wearables already making an impact. Here are five of the best examples to emulate.
McDonald's
On the face of it, McDonald's idea is simple – it has enabled shoppers to order food on their smartphones at any time, and pick it up from any of its restaurants. But Thomas Husson, principal analyst for marketing and strategy at research agency Forrester, says that the service is hugely valuable.
"It's a way to create a direct relationship with customers, and also to understand customer behaviour," he says. "It's a platform to potentially know customers better and is creating a local marketing platform and a service where you can upsell and cross sell."
He says other brands have an opportunity to create a similar direct relationship with customers.
The service is at present only available in France – McDonald's second most profitable market.
Lark
Lark's app came installed on the Galaxy S5 smartphone released in 2014 – the service is designed to provide 'personalised health coaching'. It collects information on a user's activity and provides suggestions for what he or she should do, and there is a wristband available that works with the app.
Husson says the app is clever because it "uses decision intelligence to converse with users in a human way – they're analysing your behaviours through wearables to give you recommendations on how you should behave".
He says that wearable technology such as wristbands or smartwatches capture and make use of even shorter 'moments' than smartphones.He adds that Lark's product team uses customer analytics and insights as the fuel to drive product development and make mobile moments more useful and engaging.
Groupon
Groupon's app – much like the company's desktop services – has a wide range of uses. The business has used its massive range of data to design services that are wrapped around a user's context. It can be used for anything from impulse shopping to exploring a city, to finding a last minute activity.
Husson says: "The idea is that there are plenty of reasons why consumers would interact with the Groupon app, so they've designed it to be able to be very targeted."
Content and services are personalised, and the company consistently does A/B testing on its push notifications to see which messages customers respond best to in certain situations. The business is making the most of its huge amount of data using its in-house analytics platform, and tailoring the experience effectively across the 40 countries it operates in.
Disney
Disney is another business exploiting wearable technology – its MagicBands are in use at its theme parks in the US.
They act like VIP wristbands, and use RFID technology to communicate with sensors as visitors go around the parks.
They can be used to skip queues, to pay for products in theme park shops, as a park ticket, and as a hotel room key. They can even be used to communicate with park staff – if a child has a birthday, for instance, the band can tell actors playing Disney characters her name.
Husson says: "It's not mobile as a channel, it's really mobile as a way to try to improve the offline experience."
It is also helping Disney to understand how people are navigating their way around the parks, which shops they visit, and how they spend their money.
Cancer Research
Cancer Research's project is another straight-forward but effective one. The charity turned four of its shop windows into a donation channel, by installing contactless card readers linked to responsive screens.
As people passed the window, they saw a large video screen showing a scientist waiting to grab their attention, with the message 'tap this window to beat cancer sooner'.
A single tap with their mobile using a payment app donated £2, and each tap prompted a new video of the scientist to start, showing how every donation keeps research going. Cancer Research worked with Clear Channel on the idea, which used standard contactless PDQ technology.
The initiative won the Relex Solutions Innovation of the Year award at this year's BT Retail Week Tech & Ecomm Awards.