The Mobile World Congress showcases the most exciting developments in mobile technology, some of which could have a profound impact on retail. By Katie Deighton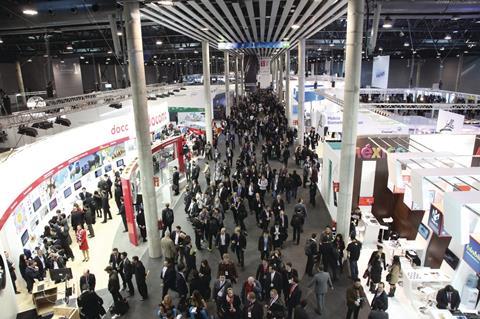 The GSMA Mobile World Congress gets technology fans around world excited and this year counted Facebook co-founder Mark Zuckerberg and IBM chief executive Virginia Rometty as keynote speakers.
While much of the news coming out of the conference focused specifically on mobile hardware, there were also a handful of developments that should be of interest to retailers.
1) Fujitsu's textured tablet
In one of the more bizarre product launches of the week, Fujitsu Laboratories unveiled its Haptic Tablet. The touchscreen lets the user feel how slippery or rough an image is with their fingers, and is powered by the electronics company's latest sensory, or tactile, technology. This works by rapidly cycling between high and low friction for bumpy surfaces, or sending out ultrasonic vibrations for slippery surfaces.
The Barcelona audience used the tablet to feel the skin of an alligator, play a Japanese harp and scratch a record on a DJ booth. Fujitsu has plans to launch the technology in the retail sector, highlighting the possibility of electronic product catalogues which would let customers 'feel' fabrics and materials online.
2) Vodafone's Connected Cabinets
Machine-to-machine (M2M) technology is all about connecting things to the internet that previously couldn't be connected. Vodafone believes this will be a valuable resource for retailers, who will soon be able to connect items such as freezers to the internet.
Its Connected Cabinets service will enable retailers to monitor stock and temperature levels remotely, enabling grocers to act fast if a fridge or freezer breaks down. It also means managers can see what is selling in real time.
Data is sent from the cabinet's monitoring device to Vodafone's data centre. Retailers can then access this information through Vodaphone's platform and build it directly into their IT systems.
The technology also lets retailers control the cabinet remotely. This means reboots, temperature adjustments and technical work can be carried out without calling an engineer.
3) Urban Airship's iBeacon system
Push notification specialist Urban Airship unveiled its vision for iBeacon systems at MWC last Wednesday. The company demonstrated how beacon technology can target customers with location-specific marketingnotifications.
The iBeacon – which can be fitted in any retail space – uses Bluetooth Low Energy to connect with a customer's iPhone. The retailer can then send the phone an automatic message – for instance, welcoming them to the store or pointing them in the direction of an in-store deal.
Urban Airship predicts its technology will create push notifications that are more relevant to the customer. A customer's data will be stored and tracked over a period of time, meaning a richer customer profile is created than the iBeacon's technology can currently provide.
Sensitive built-in time delays and frequency limits prevent customers from being bombarded with messages.
4) Accenture's mobile wallet
Mobile wallets have been big news for a while, and Accenture has joined the raft of companies offering platforms that enable retailers to build their own.
The platform includes a recommendation engine that can automatically suggest an offer to be presented to customers who enter a store, and it works with Bluetooth Low Energy beacons to locate a customer.
5) MasterCard's in-app purchasing
MasterCard announced a service that allows shoppers to make purchases within an app. Any app that has the processor's MasterPass service embedded will allow shoppers to buy with one tap, because their bank details are stored on their phone.
The MasterPass service allows shoppers to pay using their mobiles in a variety of ways – this latest addition gives users another option.
6) Samsung Galaxy S5
PayPal and Samsung announced they are joining forces on Samsung's latest smartphone, the Galaxy S5, to enable shoppers to pay using their fingerprint. The feature means shoppers with a PayPal account can shop on their mobile and in-store, confirming their identity using their fingerprint. The move means biometric security is one step closer to becoming mainstream.