Apple and PayPal have both unveiled big mobile developments in the past fortnight. Rebecca Thomson surveys the rapidly shifting mobile payment landscape.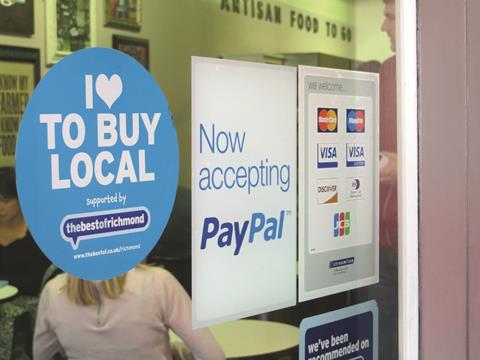 Mobile payment has always been fast-moving, but in the past few weeks big developments have come even more quickly than normal.
PayPal and Apple have launched new products - PayPal's Beacon and Local services, and Apple's iPhone 5S - and all are likely to have implications for retailers.
PayPal's Local service, which is only running in Richmond, West London at present, allows shoppers to pay using a profile picture, meaning cash or cards aren't needed. Instead, they simply check in to a store on their mobile, then tell the cashier they want to pay using PayPal. The cashier checks their profile picture on the store's iPhone to confirm the customer's identity.
When Retail Week tested the technology in Richmond it was quick and easy - when it worked, that is - and store assistants said it helps keep queues down at peak times.
Pocket change
Paying using a profile picture sounds futuristic enough, but PayPal's not stopping there. It plans to make it unnecessary for shoppers to even remove their phones from their pockets.
Its new Beacon service, which launches next year, will use Bluetooth Low Energy beacons - small plastic devices placed around a store. They communicate with smartphones and payment terminals in a similar way to wi-fi, but can be used in a more direct, accurate way. They give specific information on a shopper's in-store location and can send different content to a mobile depending on where a shopper is standing.
Shoppers' phones automatically check them in when they enter a store. The user then simply tells the cashier they want to pay using PayPal, and leave once it is confirmed - the payment is totally hands-free.
PayPal has asked developers to come up with other ideas too. Users could pre-order a coffee, for instance, and pick it up on their way to work without having to take their phone out of their pocket.
At the same time, Apple has released the new iPhone 5S, which includes fingerprint technology, alongside the 5C, a slightly cheaper version. Apple has been quietly drawing up its pitch for the mobile payment market, and its strategy is beginning to take shape.
While the 5S launch has taken the limelight, equally significant is the launch of iBeacons with Apple's operating system update this week, iOS7, which shows Apple is backing the same Bluetooth technology as PayPal.
NFC versus Bluetooth
One thing that's clear is Apple's payment strategy is not likely to include near field communication (NFC). Forrester Research mobile analyst Thomas Husson says: "Despite the fact that NFC is finally getting some traction around the world, usage is still very low. Apple certainly considered that NFC as a technology is not yet an enabler strong enough to deliver a differentiated experience. It is betting on different technology choices."
A battle has emerged between Bluetooth Low Energy beacons and NFC, and it's not hard to find Bluetooth
supporters. Nigel Conde, technical solutions director at marketing and technology consultancy Amaze, says: "With iBeacons the cost to the retailer is very low at between $20 and $30 per beacon, and this cost is likely to drop further.
In addition to low cost, the range is further [than that of NFC], operating at distances up to 150 feet apart."
Bluetooth technology has evolved significantly from a few years ago. Before, powerful transmitters broadcast to a large area, but now individual beacons can target specific areas of a store with different offers or content.
Husson says: "iBeacon could open the door to a new set of applications for indoor location services. Indoor location services are the next frontier for retailers."
So Apple has developed a secure way of communicating with phones via Bluetooth, and it is continuing to develop its Passbook service, which at present holds digital coupons but could be easily turned into a digital wallet. And then there's Touch ID, its fingerprint technology.
Gilles Ubaghs, mobile payment expert at analyst firm Ovum, says Apple has put in solid preparation for a complete mobile payment offer: "What [Apple has] at the moment is a wallet with Passbook, but with iBeacon it will have the means to transfer information more securely at the point of sale, and Touch ID gives a strong means for authentication."
Touch ID holds big potential for mobile payments. The iPhone 5S is not the first device to have fingerprint
technology, but Apple is more likely than others to make the service robust.
Ubaghs adds: "Even though it's not the first biometric fingerprint-enabled device, I'd imagine the payments community will start re-looking at the wider applications of biometrics now."
Retailers need to do three things - stay aware of developments, figure out what their customers want, and test these new technologies.
There's a lot of ground to cover yet, and it is clear NFC's previously assured path to dominance won't be smooth. Now, instead of waiting around for contactless technology to take off, there are other serious contenders in the race for retailers to test. Mobile payment development has just become even more interesting.
It's not all about Apple: Other payment services
Square Co-founded by Twitter founder Jack Dorsey, Square has generated lots of interest in the US.
Paddle This online payment service can be installed onto a website in the same way as PayPal. There is also a mobile app. Marks & Spencer is running a trial with Paddle.
Padiant This US company offers branded mobile wallet services, allowing retailers to create their own.
Isis Isis Mobile Wallet is an NFC-enabled wallet that can be tapped against payment terminals.
Zapp Mobile payment app Zapp has signed a deal with processor WorldPay that will give it access to hundreds of retailers.
PayPal Local in Richmond
PayPal started its Local service in Richmond, where its UK headquarters are based, in August. PayPal says it will be rolled out further as more retailers sign up.
The system is simple to use. Once a user downloads PayPal's app, they upload a profile picture - which is taken by the user on their phone - and tap on the 'Local' tab. This brings up a list of nearby businesses that are signed up to the system.
The user selects the store they are in and slides a 'pin' down to check in.
Once they have decided what they want to buy, they tell the cashier they'd like to pay use PayPal. The store assistant finds their profile picture on the list of checked-in customers on their device, enters the amount, and presses 'confirm'.
As with any new service, the system has had its teething troubles - it took Retail Week four attempts to get the service to work in three different retailers (Cook & Garcia, The Farmery and Pier 1 Fish and Chips), despite strong wi-fi or 3G connections. But when the network becomes more robust, it will be a natural step for PayPal users to take - it's fast, easy and convenient, and once the novelty factor has worn off that is what matters in mobile payment. Whether it will be popular enough to rival NFC services, however, remains to be seen.