Marks & Spencer is taking greater control of its IT systems and development to become more agile.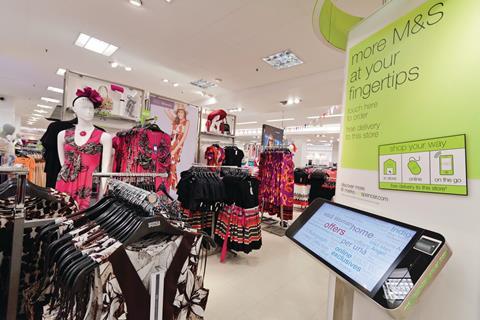 Marks & Spencer hasn't always been known for its technological prowess. While former boss Sir Stuart Rose did a great deal for the retailer – including reaching £1bn in profit – many believe he could have done more to modernise the retail bellwether's IT systems.
As a result, M&S has in recent years lagged behind rivals such as Next and John Lewis, whose infrastructure has in some areas developed beyond M&S's capabilities and whose multichannel offers are ahead of other retailers.
But M&S IT director Darrell Stein has plans to change this. The retailer has ploughed resources into technology staff and systems over the past year or so, and it is starting to see results.
For a start, it is in the middle of building a team of 100 to 150 software engineers as it works to boost in-house development. In April last year it appointed former LoveFilm chief technology officer Mike Blakemore as its head of software engineering. Blakemore joined from The Guardian, where he was chief digital officer, and will head up much of the innovation going on at M&S in the coming years.
The reason for this investment, Stein says, is that elusive beast every retailer wants at the moment – agility. "We want more speed, and more agility," he says. "We think we can be more productive working this way." Software engineers will work in small groups with teams across the business, making sure each department gets the technical product or service they want.
"We want to move to a model where we ourselves are responsible for our systems. It will lead to better ideas, and it means we retain the intellectual property ourselves," Stein says. "It's so important for the company to understand how to do that."
The growing team is working across the business on different projects – from the new web platform, which is replacing the current Amazon-hosted service, to cross-channel technologies with multichannel executive director Laura Wade-Gery.
Stein says the aim is to work on large projects, such as HR systems or the web platform, while simultaneously developing a "test and learn" environment, where experimentation is encouraged and new ideas are tested in small trials. "You can't do it with payments [systems], for instance, because you can't afford to mess around with that. But we want to put things out really quickly, they may not be 100% but let's just put it out and see if customers will be interested in it."
Better functionality
M&S's new web platform is a priority for the first few months of 2014, before it goes fully live in the spring. Three of the eight parts of the platform were live over Christmas and the rest will be completed in the coming weeks. It will have taken two years and a reported £100m to move from Amazon's web platform to one M&S has developed itself – the retailer first announced it would build its own platform in July 2012 – and lots of effort will be focused on the site until the middle of the year.
"The priority is the web platform. We have spent a lot of money putting that platform in place and making sure it is scalable," Stein says.
Beyond that, Stein says he hopes to start developing better functionality – more delivery options, such as same-day delivery, and more streamlined multichannel services are likely to be on the way.
This is not the only significant programme Stein is overseeing. Big data projects are also high on the agenda for M&S this year, after the success of the predictive analytics system, or allocation replenishment, in the food department. The system uses past years' sales data, as well as weather forecasts and relevant seasonal information, to predict demand levels for products. It means stock levels are more accurate and waste is reduced.
The system is credited with playing a central role in the department's success, which has enjoyed 17 consecutive quarters of like-for-like growth. The next step is to roll out a similar system in general merchandise, where availability issues for popular items have plagued the business in recent years. Both this system and a new merchandise planning system will be rolled out in 2014.
"It allows us to have less stock in our system, and makes it more accurate. It will also help us to manage markdowns," Stein says. At present the system is live in a couple of departments and the aim is to improve stock availability by 9% by 2015/16.
Stein says there will be a big focus on data this year: "We are working on information management, building big data solutions to help us make better use of our marketing budget." He adds that the retailer is looking at a number of options to help it make better use of information across the business.
It doesn't end there, either. Stein says new payment technologies are in the offing. "We've got quite an interesting payments roadmap – we've had to do a lot of work with our payments as the new web platform develops." He adds the world of mobile payment will be a good opportunity for M&S's food business and that it is looking at "a number of different things".
Also on the agenda is on-going work on the retailer's international supply chain. "We're making our back end as nimble as we want the front end to be," Stein says. "We need to make sure we can stand up new environments very quickly and manage our cost base as effectively as we can."
The legacy dilemma
The final part of M&S's technology estate is its network of legacy systems, which Indian outsourcing company TCS manages. Retailers' legacy systems are often blamed for their slow response to multichannel evolution and some, such as John Lewis chief information officer Paul Coby, have spoken of the need to comprehensively redevelop their legacy estate.
Stein, however, is taking more of a piecemeal approach. "Sometimes it's not cost effective to rip out and replace legacy systems. We don't have a plan to replace them all but we continue to focus on them over time."
As with many retail IT directors, Stein has spent the last few years experiencing first-hand technology's growing profile. "The role has definitely changed in the last few years. IT has become more mainstream and therefore more interesting to our board. A few years ago, nobody would have asked me why we'd selected a particular piece of software – now people are interested in why, what functionality it will give."
While in some ways this is more of a challenge for the technology team, as Stein points out, it definitely makes life more interesting.
M&S's ongoing IT improvements
The group is rolling out a new allocation replenishment system for general merchandise, which uses data to predict demand. It is also rolling out merchandise planning software.
It is continuing to improve the algorithms for its demand prediction software in its food department, where the system has improved availability.
M&S is building a team of up to 150 software engineers as it works to improve its in-house development expertise and increase agility.
It has a payments roadmap in place that will develop throughout 2014.
It is finishing its new web platform that it has developed itself, having moved off an Amazon-hosted platform. This will be complete by spring.
M&S is continuing to improve its international supply chain.