John Lewis's JLab initiative is one of the first start-up accelerators run by a major retailer in a bid to tap into the innovative tech community.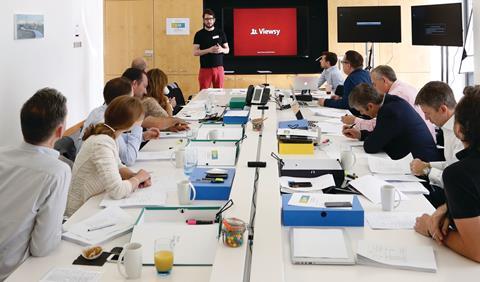 JLab was launched by John Lewis's chief information officer Paul Coby and entrepreneur Stuart Marks in March, and has received more than 500 entries since then.
John Lewis gave 30 technology start-ups five minutes each to pitch their businesses to a panel of entrepreneurs and John Lewis IT experts.
From this group, 12 were invited back to be quizzed by the judges about their companies and to find out more about their propositions. The five finalists were selected from this group, and will now work with John Lewis mentors for 15 weeks to develop their ideas in a retail setting.
The winner will receive £100,000-worth of investment – John Lewis and Stuart Marks will pay half each – and will see their idea adopted at the retailer.
The finalists
Viewsy
Viewsy, founded by Odera Ume-Ezeoke, is an in-store digital engagement system designed to help retailers better understand their customers.
In-store sensors track customers' behaviour as they move through the store, allowing retailers to analyse how they shop and offer them more personalised and efficient services.
Musaic
Musaic is a wireless sound system designed to integrate fully with today's smart home.
Founders Matthew Bramble, Simon Grabowski and Carolyn Van Dongen have created a hi-fi system that can stream music from any platform to multiple rooms in a house.
SpaceDesigned
SpaceDesigned, co-founded by Nicholas and Diane Shaw, is an online app that allows consumers to accurately create and view virtual 3D versions of rooms in their house. They can then add potential new furniture purchases and see how they might fit in.
Localz
Co-founded by Tim Andrew, Pete Williams and Melvin Artemas, Localz is an in-store digital engagement system that uses proximity and iBeacon technology.
At present retailers don't know when their best online shoppers arrive at a physical store. Localz lets them know they have walked through the door.
Tap2Connect
Tap2Connect, founded by Steve Cooke, is an after-sales service that uses smart labels to increase customer engagement.
Smart labels enable consumers and retailers to track a product's lifecycle and make ongoing service or repairs easier to handle.