As John Lewis and Waitrose rolls out Google Apps, cloud computing appears to be finally gaining traction in retail. Retail Week looks at what the technology can do.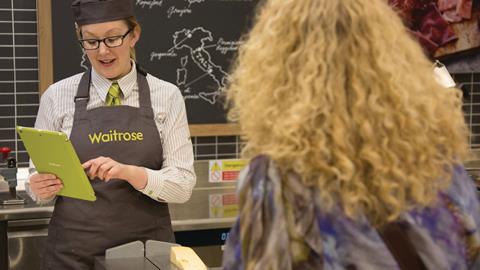 Over the past five years, cloud computing has gone from industry buzzword to increasingly serious IT contender, with a growing number of retailers interested in how it could be used.
John Lewis and Waitrose recently announced they are rolling out Google Apps to a combined total of 60,000 staff in a bid to improve innovation and communication at the two retailers. They join retailers including Asos, Specsavers and Amazon in using the cloud in some way.
Cloud computing involves using the web to host either entire IT systems or some part of them, or storing data. It removes the need to invest in data centres, and it means these systems can be accessed anywhere through the internet.
Use of the cloud is relatively limited in retail, although the benefits are widely espoused. Cloud technology means documents can be shared between different groups without reams of annoying email chains. It means a retailer's infrastructure can be scaled up quickly without the need to find more data centre space or other infrastructure. It also means new ideas can be quickly and easily tried out, because they are using flexible resources.
International benefits
That flexibility means the cloud can be particularly helpful when it comes to expanding internationally. Asos is one of the bigger users of cloud technology in retail, and has used the technology to help support and fuel its fast growth over the past 10 years.
Asos chief information officer Pete Marsden says it is coming into its own as the etailer continues to increase its international footprint and launch dedicated sites in far-flung countries such as China and Australia.
Marsden says: "We are very conscious that having a UK data centre is a very long way from Australia. The cloud improves speed and helps with flexibility – we don't have to keep buying new equipment." He adds that Asos is looking into how it can use the cloud in other ways.
John Lewis chief information officer Paul Coby says the most helpful element of the cloud for him is its flexibility and the fact that, with Google Apps, staff will have access to the kind of intuitive interface they use at home.
"It gives us access to the sort of functionality we have at home or on our mobile devices," he says. "The aim is to be able to interactively edit documents and provide public information easily within an organisation. We've started an IT user group for instance."
John Lewis has used Google to more easily communicate with staff, setting up an online portal that gave staff access to a video interview with Andy Street, in which he discusses the new business strategy.
Yvette Imbleau, enterprise account manager at Google, says: "At John Lewis they had a business strategy and wanted to get it out to everyone. Traditionally that would involve going to stores and taking staff off the shop floor. It's a continuous communication platform."
This is a helpful part of the technology for Waitrose as well. Waitrose chief information officer Cheryl Millington says: "Because we are a democracy, people have a say in the decisions we make. This provides technology that allows partners to share ideas and provide feedback in an instantaneous way."
For John Lewis, the next step is to give all staff access to Google Apps' suite of services, which includes everything from email to Google Hangouts. Coby says he wants to give staff access to new tools and allow them to use them in their own way.
"One of the interesting things about it is we are putting a lot of power in the hands of partners in terms of the tools they can use. What I'm hoping is that people will use the capability they've got and make the most of it. I'm hoping groups of people who work together will set up their own communities and share information," he says.
Millington agrees: "We were looking for something that wasn't just about the technology but was also about how we use the technology to transform the culture as well."
She adds the aim is to empower staff and make their lives a bit easier. "It's all about improving the experience of our customers and partners, all about speed and convenience and about helping our partners to sell and serve our customers better, and providing the tools and equipment to be able to do that most effectively."
Millington says there is ample opportunity for improvement in the way information is shared, and hopes Google Apps will help do this. "There are huge opportunities in the partnership for sharing information and views, and leveraging the fact that people are important," she says. "We wanted partners to be able to use any device anywhere in an easy way."
Long-term collaboration
While the first step is to migrate staff email and calendars on to Google, Millington says that what she is most interested in is the longer-term uses that involve more collaboration between staff. "What we are really interested in is Google Drive and how we can use the technology to collaborate and share knowledge. We have a large trial of 10,000 partners using collaboration tools in different parts of the business to see how we can use these tools to support partners." She adds the business will be reviewing this at the end of June.
Millington adds Waitrose is currently working on understanding the best way to use Google's applications. "We are in the early stages but we are looking at how we might use hangouts. We're understanding the best way of using the technology. We want to give partners the space to determine how they want to use it," she says.
But the cloud's ultimate benefit as far as Millington is concerned is that it supports Waitrose's overall aim to increase speed and convenience for staff and customers. "It's all about speed and convenience. The pace of change is so dynamic, anything that helps us to support the business in its ambitions is really important." She adds that Waitrose's work with the cloud is not over yet: "Cloud will become an increasing component of what we use. We're looking into other areas."
Google clearly thinks there is opportunity for growth in retail. It says it wants to bring the sort of innovations that shoppers and staff are used to in the home into a business enterprise.
Mark van der Linden, UK country manager at Google Enterprise, says it also makes it easier to bring technology to everyone in the business. "Technology has been seen as for the head office, and for the first time this technology enables you to give people in the store a digital existence," he says.
That doesn't have to mean huge changes – even small improvements can help individual teams. In the Ipswich branch of Waitrose, for instance, the branch manager would previously have had to ring round every member of the team if someone called in sick in order to find cover. Now, an online form means he can communicate with everyone in one go, and only needs to call anyone who isn't online at that time. Imbleau says: "Once you give them that platform they come up with great ideas."
Van der Linden says there are several reasons for the growing interest in cloud technology: "There are a couple of things happening strategically – we live in a mobile-first world, and the way we are shopping has changed. There's a need for retailers to embrace new technology as part of the core business and embrace it internally.
Xabier Ormazabal, head of UK marketing at Salesforce.com, which provides cloud-based software, agrees and says the growth of social media over the past five years has also been an important factor in boosting the cloud. He says: "It is down to a few major trends – mobile, social and connected devices. All these things are coming together."
Consumerisation of IT
Ormazabal adds cloud technologies have evolved "massively" over the past five years in terms of what they can do, because of the "consumerisation of IT" – the development of consumer services that have a social or mobile component.
He says: "People have taken to social media and this has introduced people to the idea of easy collaboration and the ease of using technology." This has led to a greater desire within businesses for technology that is as easy to use as their Twitter or Facebook account.
The other trend supporting the cloud is the growth of the internet of things – the phenomenon of real-world objects such as fridges or cars becoming connected to the internet. With these objects operating online already, it makes for a lot of the data generated to be analysed in the cloud.
Cloud technologies have come a long way and are piquing the interest of retailers more than ever. But don't expect to see entire IT infrastructures going online just yet. The issues that dogged cloud computing for the first few years were reliability – if you're going to have business-critical systems hosted in the cloud, you need absolutely faultless connectivity and security.
Coby says that although security has greatly improved, he wouldn't use the cloud to host bigger IT systems. "You do need to be careful," he says.
"In terms of our development of a new ERP [enterprise resource planning] system for instance, we are not running that in the cloud, we are running it in our own data centres. Same for our order management system. I'm sure there will come a time when it will be possible to run heavyweight system in the cloud, and behind the hype it's really gaining traction. But we need to put it in the right areas."
The cloud has come a long way, and no doubt more retailers will try it out – any technology that makes things quicker and more flexible is likely to go down well with retail boards.