Since the start of the year, 21,000 retail jobs have been cut or put at risk in the UK, with teams at head offices, distribution centres and stores all streamlined.
Last year, Tesco scrapped 1,700 deputy managers at its c-stores and, soon after, Sainsbury's scaled back deputy manager, department manager, team leader and store supervisor roles, putting thousands of jobs at risk.
Wilko also stripped out 1,000 members of store staff and Debenhams cut 340 store management roles.
And there's more to come. The UK retail sector is predicted to lose 900,000 jobs by 2025, according to BRC.
Many of these job losses have come as a result of retailers jumping on new technologies and investing in digital.
But it does not follow that as team numbers dwindle, the standard of customer service will suffer.
Conversely, job cuts – when carried out in tandem with investment in productivity-boosting technologies – can lead to higher standards of service. Indeed, as Deloitte explains, streamlined teams can be more agile and responsive.
But what can retailers do to ensure this is the case, and they are getting the most out of their employees in this new and daunting world of work?
Let robots do robotic tasks
New technologies such as robotic process automation (RPA) and AI have begun to encroach upon the human workforce, rendering some roles surplus to requirements.
But the ability to automate labour-intensive, repetitive tasks can be a huge opportunity for businesses to better deploy its people on retail's front line – serving and offering expert advice to customers.
Back office tasks, such as stock allocation, admin and payroll, are often a barrier to store staff delivering top-notch service by diverting their attention from the shopfloor.
Sainsbury's group chief executive Mike Coupe says its recent round of job cuts has focused on eliminating tasks that "don't add value to customers". It has made investments in its payroll systems, for example, so that it is now automated.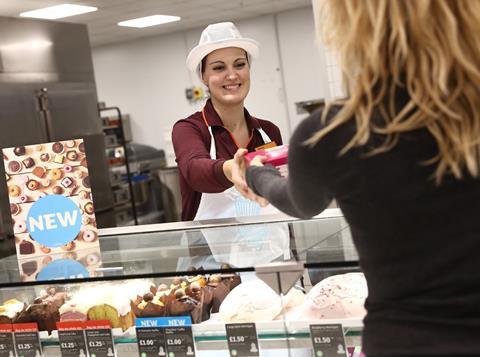 "Before it was done on paper and now it's done on screens, in real time, in shops, which delivers a better outcome for customers," he says.
"We've also talked about things like SmartShop, which makes customers shopping experience easier, and we're changing the way we run our checkouts over time."
SmartShop is an app developed by Sainsbury's through which customers can create shopping lists, scan their items and pay at dedicated card-only checkouts.
Likewise WHSmith has used tech to make its back-office tasks more efficient, freeing up store staff to serve customers and speed up queue times.
Chief executive Steve Clake says: "When we do our research in the high street and travel businesses, the things people say is important to them is being able to find a product, it being available on the shelf, and paying for it quickly.
"So we've made efficiency initiatives and investment in technologies which marry nicely with what customers are looking for, like tablets and scanners to locate stock. It's a much slicker process."
In some of its high-traffic, busy travel locations the retailer is also trialling "mobile queue-busting tech" — an app that enables shoppers to "walk in, pick up what they need and walk out".
This, Clake says, "really plays to travel customers' needs".
However, as managing director of retail technology at consultancy Accenture Rob Barnes points out, the ease of creating efficiencies varies from category to category.
"It's easy for WHSmith and other book and food retailers to be explicit about stock availability. But, in clothing, where customers move things around the store and where products come in different sizes and colours, it is much more of a challenge."
Barnes explains that, while some fashion retailers are still looking into RFID (radio frequency identification devices) and beacons so they can be explicit about stock availability, this is "an enormous investment" and yet to become mainstream.
Power-up your employees
Most agree that service is a key differentiator of physical stores in a world where online delivers on price and convenience.
So, according to Barnes, another growing trend is empowering store employees — "putting the power in their hands to provide good customer service, literally by giving them technology that informs them better".
Dixons Carphone-owned software Honeybee, for example, aims to do just that.
Its iPad software equips store staff with the information they need to help customers navigate and complete complex purchases, such as cars or computers.
John Lewis has not been shy about employing tech to bolster its service acumen. The department store retailer spent £4m on 8,000 iPhones for store staff with its new dedicated Partner App installed.
The app helps workers find information about products, check stock availability, and place orders without having to go back and forth to the stock room.
Likewise, Sofology has equipped its store staff with iPads through which they can keep track of the – often multiple – interactions they have with customers as well as the sofas they've already been browsing at home.
Having a single view of the customer helps the DFS-owned sofa firm understand its customers better and joins up the online and offline worlds to make the process seamless for the shopper.
Barnes says giving store staff access to accurate and consistent information is important.
"There's such a richness of data online, the customer could easily know more about a product than the colleague," he says.
However, with so many start-ups offering customer service apps, the challenge for retailers is working out which one is best for their business.
For example, Predict Spring is an app that empowers store staff through providing customer profiles and purchase history. Likewise, Tulip Retail provides assisted selling, endless aisle clienteling and in-store communication.
"It's crucial that you identify what your purpose is and not just pick tech for tech's sake. What works for a competitor won't necessarily work for you," Barnes concludes.
Are we at risk of losing the human touch?
Even Elon Musk, founder of Tesla and all-round tech guru, said recently that "humans are underrated", suggesting that some firms are already leaning too heavily on robots and automation.
As an alternative approach to customer service, both John Lewis and L'Occitane have taken lessons from the world of theatre to give their service some added sparkle.
L'Occitane said at WRC it hired drama schools students to inject some energy into its Regent Street flagship.
Meanwhile, in addition to its Partner App, John Lewis sent its Oxford store employees to theatre school for training to further enhance the customer experience.
And, as an antithesis to the rise of automation, Morrisons has abandoned self-service checkouts in favour of 1,000 manned tills in recognition that 96% of its customers prefer having someone to chat to.
But there's no standing still in retail. The robots are coming and will no doubt continue to infiltrate and transform the retail workforce, from the supply chain to the shopfloor.
While, for now, retailers are focused on using automation to improve back office tasks and empower staff, Deloitte writes in its 'Shop for tomorrow's workforce' report that businesses are becoming more sophisticated in their use of RPA and AI in engaging directly with consumers to answer frequently asked questions, for example.
While not yet commonplace in the UK, Lowes in the US, for example, has rolled out a customer service chatbot in-store which speaks 11 languages.
"In the long term, AI will enable work to be reconstructed and reconceptualised," the consultancy predicts.
Consensus remains that technology and humans will work side-by-side to meet evolving consumer demands and differentiate shopping experiences from mere transactions.
So, if deployed tactically, rather than being a threat to all retail jobs, technology can create an opportunity to make them more fulfilling.