As mobile phones become widespread, it's easier for news of factory conditions to reach shoppers direct. How are retailers using technology to increase supply chain transparency?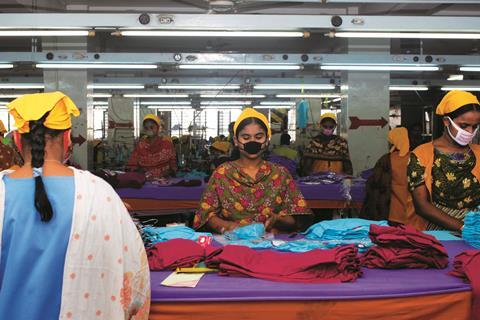 Knowledge is power - that's the clear message from a series of high-profile scandals this year, from horse meat in burgers to the fatal collapse of a Bangladeshi factory.
But as retailers battle to chart the route of their products through several tiers of factories to fields, mines and processing plants, a growing number of shoppers want to share that information.
Retailers tried to reassure shoppers after the horse meat scandal by providing more detail about how and where meat is being sourced. Such efforts may not be enough in future.
Marks & Spencer is among the retailers looking at how to use smartphone technology to make it easier than ever for consumers to get detailed information on where and how products have been made.
Mark Sumner, M&S's sustainable raw materials specialist, says: "Customers want to know more and more and we need to be listening to their needs and explaining why retailers like M&S can be trusted."
Mobile driving force
As technology such as mobile phones becomes more widespread, it is increasingly easier for news of conditions at even far flung suppliers to reach shoppers direct from the factory floor.
Well-known brands including Adidas, Walmart and M&S - which has partnered with Labor Link, a real-time technology service offering supply chain transparency - are piloting systems to directly communicate with workers in suppliers' factories to obtain early information on problems. It won't be long before such information could reach shoppers directly via a whistle-blowing service.
Pressure groups and professional service providers are already harnessing smartphone apps to pass on detailed information about the origin of products to shoppers.
Free2Work, a smartphone application sponsored by the International Labor Rights Forum, assigns grades to companies based on their policies and record relating to child and forced labour. Shoppers simply scan a product's barcode to get ratings of more than 400 brands including fashion retailers Zara and H&M and chocolatiers Lindt and Cadbury.
Meanwhile, San-Francisco-based GoodGuide has developed a ratings system designed to help shoppers judge the environmental, ethical and health standards that lie behind a product before they make a purchase. Available as an iPhone and Android app, GoodGuide already allows shoppers in the US to scan the barcode of 200,000 products from 5,000 companies to see how they score. The iPhone app alone has been downloaded by more than a million shoppers and the website has more than 650,000 unique users a month. That figure is growing by between 5% and 10% a month with almost no advertising, according to founder Dara O'Rourke. Most enquiries are about health concerns but it varies by product with more interest in labour rights on clothing, for example.
O'Rourke says: "Our main users are now mainstream American consumers looking for safe and healthy products.
There is no question that this market is going to grow and hit the mainstream."
Developments in technology such as augmented reality systems, which allow shoppers to see GoodGuide data overlaid on the products in front of them through their smartphone camera by pointing it at the shelf, will make it easier for shoppers to get such information in future.
Track and trace
For now such apps may be US-based and focused on a relatively small part of the market, but they appear to be at the forefront of a trend being embraced by major retailers.
Fast food giant McDonald's, for example, piloted the Track My Macca's app in Australia, which allowed customers to track the origin of some of its most popular products including the Big Mac by scanning a QR code on the side of the food box.
Head of the chain
M&S chief executive Marc Bolland has said that within three years he wants customers to be able to use product codes or the company's website to see exactly where individual items have been made.
He believes such information is becoming easier for shoppers to access from other sources, so enabling them to find out about the high standards in M&S's supply chain directly would help highlight a point of difference that could provide a competitive advantage.
Sumner says: "It's a really important thing for us in terms of differentiating our product from some of our competitors."
M&S has already experimented with the idea by allowing shoppers to scan a QR Code on its "sustainable" men's suit for more information about how the garment was put together. "We got pretty good pick-up from customer feedback," Sumner says. It now has similar information about a number of hero products that shoppers can access via the M&S website.
Sumner says M&S has an advantage in already having a lot of information about its suppliers. "It's more difficult for organisations that don't have that transparency," he says.
But even for M&S it's going to be a tricky task to provide detailed information on every product.
"You are going to need a pretty impressive IT set-up to make that work and make sure you are engaging customers and adding value to them," says Sumner. He argues that there is no point in bombarding shoppers with technical information without any narrative to help them understand why this might make the product better.
A potential problem with M&S's approach is that it is asking shoppers to trust in the information it is providing. It may be able to point to independent ratings or assessment systems such as Fairtrade or the Marine Stewardship Council, but not all products will fall under such schemes.
In contrast, GoodGuide combines data from government sources, companies, NGOs, media coverage and private research firms that rate publicly traded companies on their social and ethical performance to build its scores.
The creation of such apps is making it easier for shoppers to get the right information rather than looking to unreliable and unofficial sources. And for brands that may hope and pray that poorly managed and monitored factories don't come under the media spotlight, such wishful thinking will become a thing of the past.
Raising the standards
Gap, H&M and C&A are among the members of an industry-wide system that uses mutually agreed guidelines to rate social and environmental standards.
The Higg Index is being developed as a tool for clothing brands and retailers to evaluate different materials, factories and products in terms of their environmental impact. The aim is to widen its scope to cover social and labour rights and develop a scoring system that can be communicated directly to shoppers.
"We want to create something that is like the equivalent of a nutritional label on food," says Vincent Stanley, head of marketing for outdoorwear brand Patagonia, which is one of the founding members of the Sustainable Apparel Coalition, which is developing the Higg Index.
"Eventually we hope to make it consumer facing through a QR Code or its successor." He thinks this may become possible in the next two years.
For Stanley, an industry-wide ratings system is much more powerful than individual companies pushing out information on their products because it provides integrity in which "nobody is trying to wiggle the language around".
With big companies including Walmart involved, it seems likely the group will be able to agree on suitably stringent and independent standards to rate their products. If such a system succeeds it could be powerful if shoppers are listening.
Stanley admits that shoppers have been less interested in ethical concerns in the past five years during a tough economic period, but he says consumers expect brands to take care of issues such as working conditions as a matter of course.
He argues that the easier it is made for shoppers to receive detailed information on such concerns simply by waving their smartphone over a product tag, the more they will be able to use it to compare brands.
"Consumers haven't had this kind of information. The more information they have the more they will care and ask questions."