The story of m-commerce efforts in 2012 includes both good news and bad news. Firstly the good news.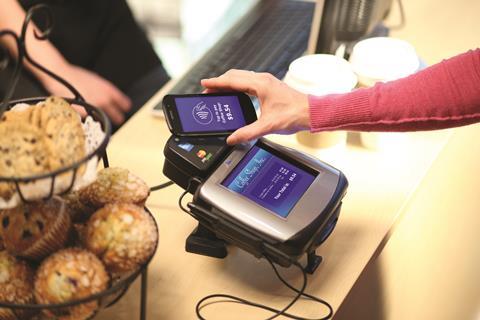 Progress has been made - testing and true deployment of a wide range of mobile happened among most of the world's largest retailers. Marketing departments also found new data and sales opportunities with geolocation, in-aisle coupons and apps that let shoppers know when anything on their wishlists went on Sale or happened to be in stock.
The bad news was that the most critical of retail mobile apps - the one that has the potential to rewrite retail rules - is mobile payment. And mobile payment has enjoyed no shortage of mobile trials, but not many shoppers are participating yet and the return on investment on the technology is still not clear.
There is a legitimate argument that the hype on mobile payment has been just that. And if retailers focus on all of the benefits of mobile that have nothing to do with payment, they are likely to find a huge windfall. All of this leaves the mobile retail picture for 2012 a mixed one.
Avoiding mobile payments has so far been part of the strategy for arguably the most powerful mobile vendor, Apple. When the technology giant rolled out its mobile wallet, it included everything a retail marketeer could want, other than payment. That was deliberate. Apple won't even directly support near-field communication (NFC) in its current phones.
But the lack of shopper enthusiasm for mobile payments is mostly based on two factors, neither of which are insurmountable.
The first is the same problem that has so effectively undermined contactless payment efforts in the US. Card payments are simply a lot more popular and efficient than was assumed. Going to mobile is, by definition, a material change in consumer behaviour. That has to be offset by something meaningfully better. Coming up with something that is every bit as good as card payments won't cut it - cards are fast, and they tend to work the vast majority of the time.
That is the first problem - shoppers have little desire to move away from card payments. That brings us to the second problem - incentives for shoppers to experiment with mobile payment have been either non-existent or trivial. What is needed is something striking, such as 30% discounts for mobile purchases or giftcards - even if the offers are for a limited time period, they would still help.
The problem with such incentives is they can be expensive for retailers or their suppliers. Various payment players - especially processors and mobile wallet vendors including Google, PayPal, ISIS and mobile vendors such as Square and Shopkick - have been paying for most retail deployments, making the retail investments minimal. But as for shopper incentives, that has fallen onto the retailers, who have proven hesitant to fund it.
Both sides want the other to cough up the mobile bucks.
Mobile moves
Some of the most interesting mobile moves this year include initiatives from Apple, Aéropostale and Target, and each have implications for retailers' 2013 mobile strategies.
Apple's project, perhaps surprisingly, involved a bit of a slip up after it accidentally accused one of its customers of shoplifting in one of its New York stores in October this year. The incident illustrates the need for loss prevention and shoplifting rules to be radically rewritten given mobile payments. In a broader context, the idea that a mobile payment app mistake could result in an arrest is sufficient to cause shoppers to hesitate before trying mobile payments.
The problem was quite a simple one. A shopper set up an appointment with Apple's in-store tech support and, while waiting, decided to buy a pair of headphones. He used Apple's app to scan the barcode, and used his iTunes account to pay.
He was then called for his tech support session. Afterwards, he asked a sales associate for a bag for his purchase, but the associate did not check the customer's digital receipt before handing him a bag. Had the associate done so, the incident might have been avoided. Upon leaving the store, he was stopped and asked to show his receipt. When he activated his phone to do so, he noticed that the transaction hadn't completed. Instead of apologising and giving him the chance to hit the last button and complete the transaction, staff called the police and the customer was arrested for shoplifting. Dealing with possible shoplifting cases is difficult with mobile payments and common sense must play a significant role.
At fashion chain Aéropostale, mobile was used to target a teenage shoppers. The 1,108-store teen apparel chain, which has stores in all 50 US states, tried a creative iPad jukebox experiment that gave teen shoppers the chance to choose the music in the store. In a clever twist, the teenagers had to wait 30 minutes to hear their tunes play in the store - encouraging them to wait, browse and, possibly, buy.
The potential here isn't just to track generic music influences. The project could also help the retailer find out if specific songs influence shoppers and could help it discover which types of music are good shopper lures.
The attraction to the jukebox concept is a time-honoured teen tradition: making others focus on you, listen to what you want them to hear, watch what you want them to watch. It gives teens the ever-so-attractive illusion of control. In a major way, that is truly at the heart of teen apparel choices, and that is why this trial resonates so well with its target audience.
This is about a chain using a mobile, but in a way that reflects how their customers interact with their environment. This isn't about using mobile to make sales happen. It's about understanding customers and what works for them and leveraging mobile to make that work.
Get what you give
Target, meanwhile, has trialled mobile giftcards. Giftcards are an obvious ploy to increase store footfall - the aim is to get new shoppers through the door. Another goal is to make it easy for them to spend money. But although the new giftcard options Target announced in November make it easier for customers to buy giftcards, they actually make it hard for card recipients to use them.
The problem is Target's giftcards don't move easily between the chain's in-store, ecommerce and mobile systems, each of which is in its own silo. Putting QR codes in-store to let people buy electronic giftcards is a fine, no-fuss step - but then making it particularly tedious to move those cards to the recipient's preferred channel is not the way to make those new customers happy.
When a customer tries to buy a giftcard online, that shopper is sent an email message with a 15-digit giftcard number, an 8-digit access number and a set of instructions for redeeming the giftcard.
If that shopper wants to use it at Target.com they will need to manually type in the 15-digit and 8-digit numbers at checkout time. If they want to use it at Target's m-commerce site they will need to create an account and manually type in the numbers.
If they want to use the giftcard in-store they will need to create the mobile account, manually type in the numbers, then click on the on-screen giftcard icon that's been generated to get to the 2D barcode that they can show to the cashier to use the giftcard balance.
There are plenty of lessons in these three examples here for retailers - perhaps the most crucial is the importance of trials and experiments. If retailers don't start trying these things soon, they won't learn what works best by the time mobile has become mainstream.