When was the last time you left home without your mobile? Chances are, you are like most consumers – it's always on, ready to engage wherever you are.
Retailers simply cannot afford to ignore the potential offered by the device most customers are carrying in their pocket when they step into the store – according to recent Deloitte research, 13% of UK adults made a purchase in store in 2015, up from just 3% the previous year. In recent BIO research 42% of the people we surveyed believed tills will be replaced by smart device payments within the next five years.
House of Fraser is an excellent example of a retailer harnessing these changes in consumer behaviour and creating a product that genuinely benefits mobile shoppers' in-store experience – its app is intuitive and convenient, which is everything that a retail app should be.
For example, customers can use the app to stock availability; solving one of the key disadvantages of in-store retail, that heart-sinking moment of realising your item has sold out, and you could easily have found it online with a single click.
Besides its impressive functionality is the simple fact that the app looks great – with eye-catching 'editorial'-style fashion photography and a clean, bright design, navigating around this app is a clutter-free and enjoyable experience.
As a department store, House of Fraser could easily have stuck to straight 'department' categories in the app, but instead they have used an innovative mixture of seasonally appropriate sections such as 'Party Shop' and 'Top Selling Brands' with more conventional categories such as coats, lingerie, womens' and mens' clothing.
Those who use the app in store are also able to earn extra rewards by using the nifty barcode scanning feature and save time by personalising size preferences, colours and styles. Impressively, House of Fraser has also tied its paper catalogue into the app experience – users leafing through the interactive catalogue can scan pages and shop for items directly via the app.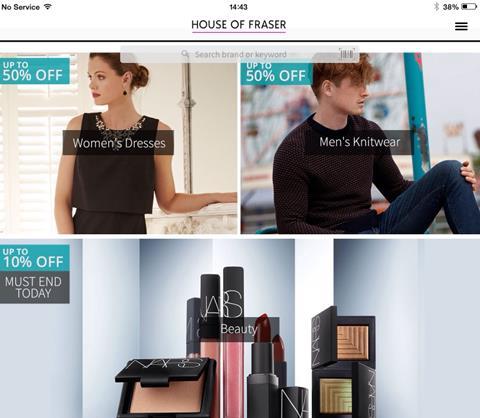 On the other side of the coin is the Asda app – unfortunately, it seems as though one of the few acknowledgements it makes of customers' in-store mobile use is the GPS function, which allows users to find their nearest store. Beyond this, the app is essentially just another platform via which to shop online.
Online grocery retail is without doubt a growing industry, with brands such as Amazon getting in on the game with its recent trial of a fresh food delivery service in Birmingham, so Asda is right to focus on getting the basics right in this respect. However, the supermarket shouldn't lose sight of the fact that the majority of consumers still do their food shopping in physical stores, and so it is well worth investing in making this experience as effortless and pleasant as possible in order to keep up.
Dominating the landing page is a large seasonal promotional photo, with the heading 'we think you'll love…' but beyond this, the app is fairly Spartan. Bizarrely, one of the only three prominently displayed options on the landing page is the cost of petrol in a random store location (in this case, Bethnal Green Vallance Road – miles away from where I am), which looks sloppy.
The Asda app does have a lot of potential – its transactional functionality is well-designed and easy to use, and if this intuitive, common-sense design was applied in the same vein as House of Fraser with in-store rewards and alternative payment methods to cut down on queuing time, it would be far more useful to mobile-savvy shoppers.
Peter Veash is chief executive of the Bio Agency