Self-service checkouts are now common, but is the technology doing what it's supposed to do?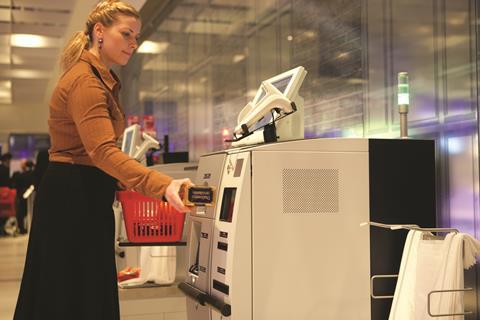 Self-service checkouts are one of the more divisive in-store technologies of the past couple of decades. Introduced in the late 1990s, they're loved by retailers for their efficiency but disliked by some customers for their glitches, and a love-hate relationship has ensued.
The benefits are obvious. The tills can speed up transaction times and free staff to serve customers on the shopfloor, while taking up less space than a manned till. But bugbears remain, particularly when staff intervention is required, and Ikea is just one retailer to have experienced problems. This summer the Swedish furniture giant revealed that it was removing self-checkouts in the US because the systems, which were more secure than UK versions, required too much staff oversight.
Love-hate relationship
Tim Ogle, European chief executive of customer intelligence company Market Force, says that the flaws in the system can actually extend waiting times. "There are some technology tweaks that still need to be addressed," he says.
Market Force recently surveyed 5,000 shoppers on the use of self-service checkouts which showed that more than half (57%) liked them because they speed up the payment process and 64% said retailers should invest in more this year.
But it also showed how frustrating the experience can be. Almost half (44%) said they didn't use self-service checkouts because they preferred to interact with staff, while 22% said they didn't like the amount of time it took to get authorisation for age-restricted products.
A 2011 white paper, The Impact of Self-service on the Customer Experience, from the Henley Centre for Customer Management found that customer experiences of self-service technology can be poor. "In many cases, self-service applications are damaging rather than enhancing the consumers' overall service experience," it said.
But despite the problems, the market is growing. Strategic research and consulting firm Retail Banking Research says that in 2011 shipments of self-checkout terminals rose to 26,700, a number that is set to more than double by 2017 to 60,000.
Helen McInnes, retail trend watcher at technology provider NCR, says the market has developed quickly in the UK. She says: "In larger supermarkets between 20% and 70% of lanes are self-service. They handle between 35% and 70% of transactions and are now used by 40 million customers every week in the UK."
A Sainsbury's spokeswoman says the use of self-service checkouts is about giving the customer choice, rather than replacing staffed tills. She maintains: "There is a trend for customers to shop more often for smaller amounts in order to waste less, so the greater choice and checkout numbers that self-checkout has given us makes for a better shopping experience."
But the experience can still be improved, says Sandra Samulski, retail consultant at consultancy Kurt Salmon. "Current technology relies on products being scanned and bagged one at a time, resulting in the infamous 'unexpected item in bagging area' message when a customer tries to scan and bag more than one item," she says.
Accuracy of the scales also causes customer frustration – especially when they fail to register a bagged product. Sainsbury's admits this can be a problem.
"Some of the common problems arrive from the weighing scale that interacts with the point of sale system, and the bagging alert when customers' own shopping bags are too heavy when first put on to the checkout," says the retailer's spokeswoman.
Sainsbury's points out that colleagues are available to help if customers are having problems but Samulski says the systems still need to improve. "Scale readings need to become quicker and more accurate, and retailers have been fine tuning the scale settings to ensure light items such as greetings cards are registered by the machine," she says.
But that's not all. Samulski says that on-screen user interfaces could be improved to reduce confusion. "Shoppers are frequently left puzzled when they are required to know the exact name of the bakery good or produce item they are buying to be able to find it in the menu," says Samulski.
Security issues
Another motivation for ironing out glitches is theft. A survey of nearly 5,000 shoppers by watchmywallet.co.uk found that nearly a third (30%) had stolen goods from supermarkets while using self-service checkouts. The checkouts are calibrated to detect when unpaid items are put into the bagging area, but staff often simply override the checkout to keep queues moving.
Keeping tabs on customers in store might help prevent theft becoming more of a problem. This could be done by asking a customer to identify themselves, either by swiping a loyalty card at the till, using a log in, or by installing sensors to detect consumers' mobile phones when they enter the store – as long as shoppers have given their consent for this to happen. Theft is less likely to occur if shoppers know the retailer is aware of their presence.
Tony Harrington, assistant director of the Henley Centre, says login information or mobile phones could be used to keep a handle on what customers buy. "That means that the brand can establish a customer's identity and monitor a range of information about the user as they move throughout the store," he notes.
Although it may seem contradictory, self-service checkouts actually require a higher level of overall customer service than ever if retailers are to keep customers happy. McInnes at NCR says that the self-checkout area needs plenty of staff monitoring the tills, adding: "The self-checkouts increase the density of the number of payment points in-store, but active service delivery is still important."
Sainsbury's says that it has concentrated on addressing this. "We have heavily invested in colleague training to ensure that we can give great service as well as coaching customers to use the checkouts," says the spokeswoman.
Grocers were among the first to embrace self-checkout, but it has proven popular throughout the industry. General merchandise stores including retailers from Homebase to WHSmith and Boots have introduced it.
WHSmith unveiled the roll out of self-service checkouts from supplier NCR earlier this year, using BT Expedite point-of-sale software, and the technology has since been introduced in a number of large high street and airport stores.
The retailer says customer feedback has been positive, with queuing times reduced and no detrimental impact to overall customer service.
Increasing customer choice
Boots introduced self-service tills in June 2007 and now has them in 100 stores. A spokesperson says that the aim is to increase choice for customers, adding: "Customer care is always our first priority and by having self-service machines as an option for our customers, our aim is to increase the number of places they can pay at rather than decrease the number of colleagues we have on hand to offer advice."
And as consumers become more tech-savvy, they expect more choice. Chris Gates, director of retail at Hitachi Consulting UK, says: "With the rise of consumers that have grown up with an inherent understanding of technology, there is certainly a need for in-store technologies."
The technology is likely to get more user-friendly and IT providers insist that it is improving. Ed Brindley, director of marketing and business development at Wincor Nixdorf, says that second generation self-checkouts are less likely to malfunction. He points out that some are also equipped with a cash hopper, allowing customers to put both coins and notes into the machine without needing to flatten and feed notes.
There may be niggles, but self-service machines enable retailers to cut queues and release staff to work elsewhere, plus customers are fans when they work correctly. It is likely that they're here to stay.
Comment: Retail technology is a challenge
1

2

Currently reading

Analysis: Are self-service checkouts fit for purpose?

3

4

5

6

7