Visa is boosting the security it offers shoppers using mobile and online payments as the popularity of m-commerce transactions increases.
The payments firm predicts that a fifth of shoppers will pay for items via their smartphones on a daily basis by 2020.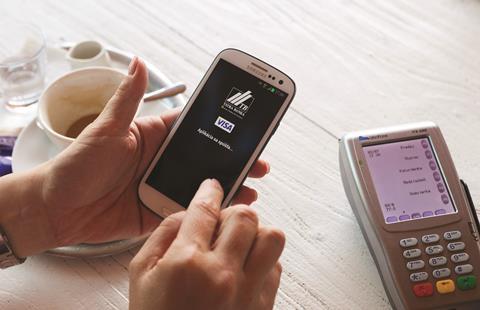 Visa Europe's executive director for product enablement Sandra Alzetta said: "Looking at contactless as an early indicator, where adoption has doubled and spend has trebled in the last year, we believe this projection could well be a conservative estimate."
However research shows that 62% of shoppers are concerned about security around mobile and digital payments.
Visa's 'Payment Tokenisation' service allows shoppers to link their payment card to cloud-based payment services to keep their details safe when paying in-store or online.
The security system is now being extended to include services such as banks' own mobile payment apps, plus a variety of wearable and other connected devices.
Internet browser-based wallets and retailer-specific checkout offerings such as Visa Checkout, as well as card on file payment options – commonly used by online retailers and merchants – will also be covered by the new system.
Alzetta added: "By expanding our service to make tokenisation available to our client banks through a number of new technology partners, consumers will have access to all manner of fantastic new payment experiences accessible through their mobile phones, tablets and all manner of other 'connected' devices."