Canadian food producer Urban Barns is developing 'cubic farming' technology that can potentially grow 500 lettuces in one square foot over a year.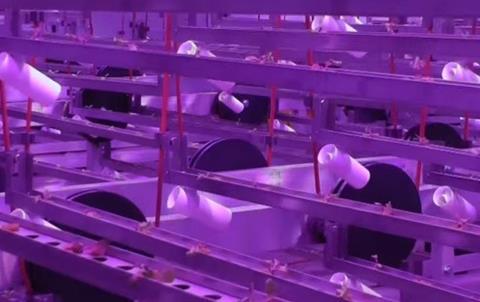 Independent creative director Tony Babinski said at this week's National Retail Conference in New York that the technology could help retailing become "more surprising, greener, creative and less centralised".
Cubic farming uses a framework to grow plants by circulating water and nutrients around cube-shaped frames, while low energy LED lights provide the necessary light for photosynthesis.
The agricultural yield from the system is significantly greater than traditional agriculture and it is hoped it can be used in retailers' storerooms to grow produce where it is sold.
Along with potentially bringing agriculture to an urban space and making it hyper-local, it also has significant environmental benefits.
Cubic farming, which has been described as 'Star Trek meets farming', requires significantly less water than traditional agriculture.
It is estimated agriculture uses 70% of earth's accessible fresh water, more than twice the amount used by industry (24%) and dwarfing municipal use (8%).