Tesco is testing slimline card-only checkouts in its busiest London stores in a bid to save space and reduce queues during peak times.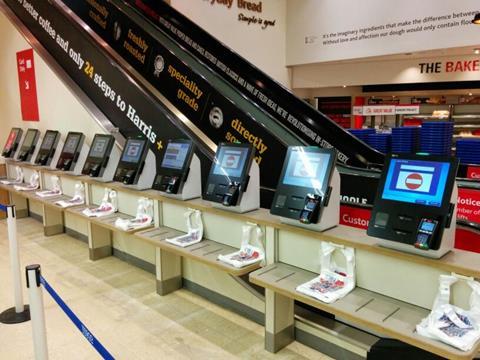 It has started a trial of 10 checkouts at its Tooley Street store in London, and is planning to trial the technology at two other stores in the capital.
Tesco is trialling the card-only checkouts because it can fit five of them in the space of three conventional checkouts, and because 80% of peak-time customers pay with card.
The grocer wants the checkout to help reduce queuing times in smaller stores, and says reducing queues is particularly important to London customers.
It says central London stores, such as its St Pauls and Canary Wharf branches, where the technology is being trialled in July, have peaks in trade and that queues can become a problem, but that most customers buy five items or less during peak hours.
The tills have contactless technology embedded in them – in May, Tesco completed the roll out of contactless technology to all terminals in London. It says 23% of all card transactions under £20 in London are now contactless.