Tesco has tested its first mobile couponing scheme in order to drive traffic to its new concept store in Villiers Street, London.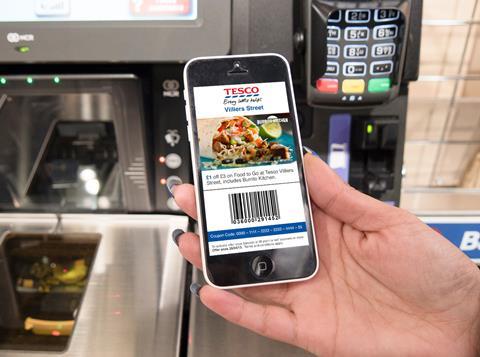 The grocer trialled the technology, provided by mobile firm Weve, with staff before rolling it out to customers over a two-week period.
Shoppers near the store were sent a message that when clicked on generated a mobile coupon barcode offering them £1 off a £3 shop on Tesco's food-to-go range.
Before the test, Weve set a 'habitual location geo fence' that allowed it to determine which consumers had passed by the Villiers Street store or travelled in and out of Embankment station at least six times over a two-week period.
Those consumers were sent the mobile coupon during the trial. The technology helped Tesco ensure it only messaged passers-by once.
Customers were able to redeem the voucher by swiping the code at a self-service checkout or by allowing staff to swipe it at the till.
Digital coupons
The initiative is part of Tesco's attempts to digitise paper coupons and increase the use of mobile devices during the shopping experience.
It is rolling out a new scanning system to its stores, which has the ability to read digital rather than paper barcodes.
The scanners are in use within the M25, but will be rolled out throughout the UK this year.
It is understood Tesco is holding discussions about extending the mobile couponing initiative further.