Tesco Homeplus in South Korea has opened what it claims is the world's first virtual store in Seoul subway, following an initial trial in July.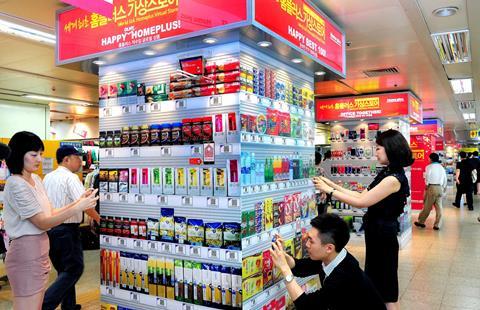 Using the walls of the Seonreung subway station in downtown Seoul, Tesco has displayed more than 500 of its most popular products with barcodes which customers can scan using the Homeplus app on their smartphones, then get it delivered to their homes.
It opens on the same day that in the UK Ocado unveiled its virtual shopping wall at London's One New Change shopping centre.
In Seoul, Tesco shoppers scanning products on their way to work can get a delivery that evening if the order is placed before 11.30am. The store will be open for three months.
It follows an advert Tesco ran in South Korea in July for a virtual shopping wall, created by Cheil Worldwide. The initial launch created excitement so Tesco decided to push ahead with a full launch.
DW Seol, executive vice president of corporate affairs at Tesco Homeplus, said: "I am extremely proud of the great work the Tesco Homeplus team have done to launch this idea in the Seoul subway. We are always looking to make the shopping experience easier and more convenient for our customers and the introduction of the virtual store is a great achievement. This is a real triumph for the Korean retailing industry as it continues to be at the forefront of technological innovation."
The displays run on the pillars and the screen doors of the subway station. Shoppers scan the QR code then it adds the product to their order.