Six in 10 consumers are expected to increase their use of contactless payment when the limit rises from £20 to £30 in September.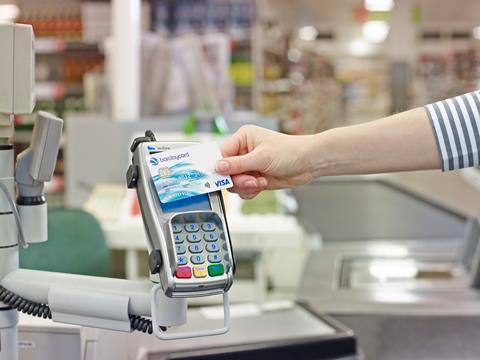 Research conducted by Barclaycard revealed 57% of shoppers intend to increase the amount of contactless transactions they carry out when the new maximum spending amount is introduced on September 1.
Contactless spending on Barclaycard credit cards rose 150% in the past year. Mastercard recorded 560% year-on-year growth in the value of contactless transactions in July, up from a 373% increase in July 2014.
At the start of 2012 the average Mastercard contactless purchase was £4.52. In July this year it had increased to £7.29.
Retail transactions
Barclaycard figures show the retail sector has experienced the largest increase in contactless payments, with supermarkets accounting for 29% of all transactions. Barclaycard estimates the average supermarket shop is £23, meaning the amount of contactless transactions could rise significantly when the new limit is introduced.
In a further boost to the payment method, Sainsbury's is planning to roll out contactless payments to its stores next year.
Barclaycard head of contactless Tami Hargreaves said: "From the credit card to chip and Pin, to contactless and mobile payments, Brits are renowned as fast adopters of new technologies.
"Over the next year we expect the limit increase alongside the forthcoming launch of High Value Payments – where contactless transactions over £30 can be made using a mobile device combined with chip and Pin authorisation – to drive this growth even further."