Elevaate, DigitalBridge and Formisimo jointly won the Pitch Perfect final for start-ups at Retail Week Live 2015.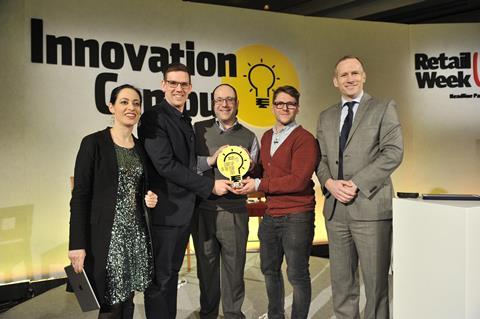 Both the audience and the judges were unable to separate the start-ups in the final, resulting in a three-way tie for the top spot.
A representative from each start-up was given a minute to pitch their work, and then faced questions from the judges for a further four minutes.
In a dramatic end to the new initiative, the audience were given three minutes to vote for their favourite business. The live voting changed constantly, until the last second when the three were locked on 33% of the vote.
The judges and Retail Week editor-in-chief Chris Brook-Carter decided to leave the result as a tie.
Elevaate was the first finalist, winning yesterday's revenue maximising heat. The firm is a scalable, cloud-based technology platform that allows brands to pay-to-position their products from within existing sales catalogues to key locations on retailers' websites.
The second finalist was DigitalBridge, a platform that allows you to take a photo of a room and add home décor options to the image. DigitalBridge won the customer engagement heat yesterday.
Formisimo was the third finalist. The business offers data and insight to help retailers create a better checkout process, and won this morning's retail efficiency heat.
The Pitch Perfect sessions were a central point of the Innovation Campus at Retail Week Live.
The Innovation Campus aimed to bring together the sharpest minds in the start-up community and tap into their innovative ideas, many of which will shape the retail experience of the future.
It will also be an opportunity to bring the start-up and retail communities together to share ideas and make connections that could result in future collaborations.