Republic's integration of new online customer service technology has led to 90% of enquiries on Republic.co.uk being dealt with by its automated help section, allowing swifter response rates.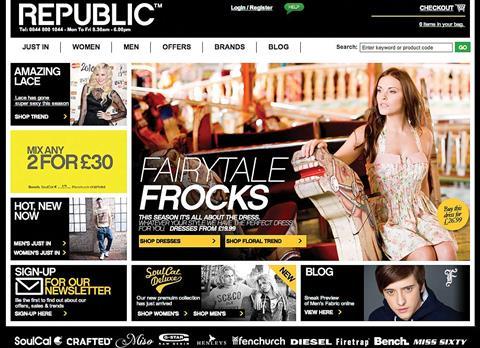 Switching from Microsoft Outlook to the system from Eptica has allowed Republic to answer 80% of emails in 24 hours. Republic customer service manager Sharon Biltcliffe said: "Email turnaround is twice what is was before the system was integrated."
Eptica analyses the text of an email customer enquiry to provide immediate online answers to some questions. Since implementing the technology last year only 6.7% of customers go on to submit a question by email, reducing the volume of enquiries requiring a direct response.
The self-service approach means that Republic's agents have been able to reply to more complex customer questions faster and more effectively. The new system also shows if a customer has emailed before, allowing agents to provide a better service.
The system implementation has helped the young fashion retailer improve customer interaction and has cut down the amount of time taken responding to an influx of questions on the same issue via its contact centre.
Republic implemented Eptica in time to handle its peak Christmas sales period. Republic.co.uk's online sales soared 35.2% to £6.1m in the 12 weeks to January 3, 2010 compared with the pre-vious year.
The retailer said that email is the preferred method of customer service contact for between 40% and 60% of its customers. Biltcliffe said: "People will get more comfortable with email as a result of the software, which saves time and money for us."
Eptica also allows emails to be channelled by type to a member of its service team so Republic can train temporary staff in a couple of hours to deal with straightforward enquiries and allow more experienced staff to deal with those that are more complex.