Ocado is launching a Scan & Shop app that allows customers to scan barcodes of products to automatically add them to their baskets.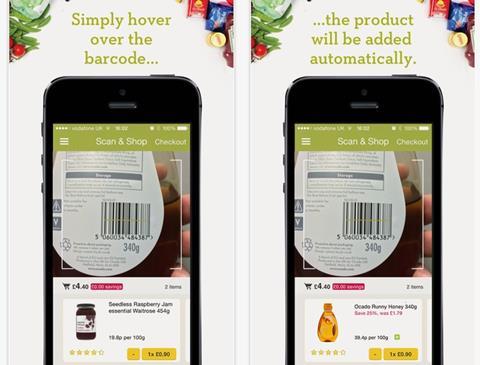 The online grocer has launched the iPhone app in the same month Waitrose revealed it would launch a home scanning device called Hiku next year.
Customers can use the Ocado app to scan barcodes on products in their home to add them to their basket. The process is designed to make online shopping faster.
Ocado director of retail Lawrence Hene said the online grocer has developed it because 30% of its sales are now made through its mobile apps.
He added: "We created Scan & Shop to give customers shopping on their phones another quick, convenient alternative to visiting a supermarket.
"Now customers can quickly whiz around their kitchen with their iPhone and checkout without even having to visit an aisle. It's the future of grocery shopping and we're excited to once again be pioneering new technology that will change the way we shop forever."
Waitrose's home scanner
Waitrose is trialling its Hiku home scanner with staff and will extend the trial to customers next year.
Waitrose is also launching an app to go alongside the Hiku scanner for customers who do not want the scanning device.
But Waitrose IT director Cheryl Millington expects customers to want a Hiku device at home rather than solely relying on the app because it scans barcodes four times faster than a smartphone.
Millington says it also offers a better user experience because it is dedicated to a single 'use case' in the same way as an Amazon Kindle ereader.