With the pandemic forcing retailers to shift attention to their ecommerce strategies, RWRC's new report explores how British retailers are investing in online overseas markets and how others can follow in their footsteps.
The pandemic has upended the retail sector with the surge in online consumer demand proving that digital transformation is no longer optional.
RWRC and the Department for International Trade's new report The ultimate guide to unlocking global growth – part two evidences a sustained shift to ecommerce on a global scale. Featuring expert opinion and data, the report highlights how retailers cannot afford to ignore the opportunities presented by the new ecommerce landscape.
In the report, PwC leader of industry for consumer markets Lisa Hooker says "brands and retailers with reach in multiple territories and across multiple touchpoints have proved more resilient through the Covid-19 crisis, particularly given the divergence across countries in terms of the speed and ultimate robustness of recovery".
"Brands and retailers with reach in multiple territories and across multiple touchpoints have proved more resilient through Covid-19"
As a result, Hooker asserts that "in the medium term, all consumer markets will have been disrupted by online challenges while, in the longer term, there is likely to be some convergence. For example, online players are exploring selective footprints and offline players are exploring different online models."
Building and maintaining a strong global ecommerce presence requires clear focus and with the crucial Golden Quarter fast approaching retailers must act now.
So what tactics can retailers employ? The report profiles five British retailers investing in global ecommerce to understand what their strategies look like and how businesses can follow their lead.
Below, we've summarised two of the five retailer's ecommerce strategies. View all five strategies in full here.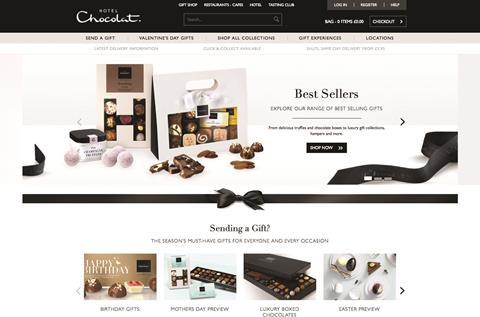 Hotel Chocolat
Group sales: £132.5m (2018/19)
Online sales: £25m (2018/19)
International sales: £20.3m (2018/19)
Launched in 1993 as a pureplay business selling chocolate online, Hotel Chocolat has evolved to become a fast-growing omnichannel retailer with 130 outlets in the UK and internationally.
Today, ecommerce represents almost 20% of its sales (£25m in 2018/19) and investment in driving online growth is being ramped up at home and abroad.
However, given its luxury status, the chocolatier has been cautious not to saturate its core UK market, and international expansion is focused primarily on the US and Japan – territories where it also has stores.
In March 2020, Hotel Chocolat raised £22m through a share placing to fuel its online and international growth once the pandemic had dissipated. The chocolatier said the cash would be ploughed into its medium-term growth strategy, including "prudent" expansion in the US and Asia.
Launching country-specific websites for these major economies has been key to its ecommerce strategy.
In 2017 Hotel Chocolat replatformed its website to provide increased mobile and tablet compatibility. This has made it easier – and less costly – for it to launch dedicated international sites. Using the platform, the US site was able to undergo a full update in late 2019 to coincide with the retailer's renewed push into the market.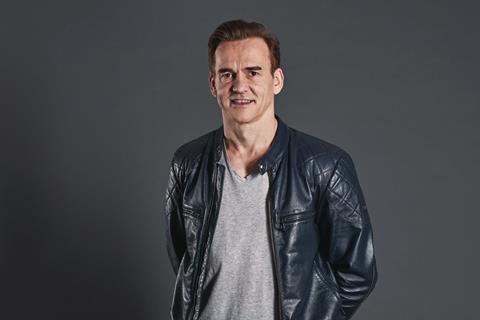 The Hut Group
Group/online sales: £1.14bn (2019)
International sales: £740m (2019)
Established in 2004, pureplay retailer The Hut Group (THG) operates in around 60 languages, 50 currencies, delivers to about 200 countries and has a global customer base of more than 23 million.
International growth is a key area, with overseas sales accounting for 66% of total revenue in 2019.
In driving its ecommerce strategy, the retailer has spoken about how it develops bespoke "ground-breaking, game-changing technology solutions" to power its own operations, rather than buying off-the-shelf software.
These solutions include its third-party ecommerce platform Ingenuity – into which it has invested £600m over the past three years. As well as powering its own websites, external clients are able to use it to power their own. Brand websites can be localised quickly through the Ingenuity platform, allowing it to continuously add new languages and currencies.
While a solution of this scope will be beyond many retailers, what is notable about THG's global ecommerce strategy is its focus on data to create the best online user experience.
It has created a 'customer science' function to deliver deeper insights from its billions of customer data points. This includes using analytics to segment its customers and personalise the online customer journey through elements such as geolocation.
The retailer is also leveraging social media to drive traffic to its website. In June 2020 THG revealed it had expanded its influencer reach, bringing more than 5,000 influencers to its own and partner brands.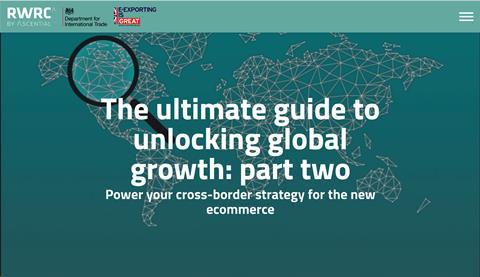 Want to know more?
Access your free copy of the report here to gain insight into how retailers are investing in and strengthening their cross-border online presence.
You'll also uncover:
The scale of the UK export opportunity in the new ecommerce landscape

Lessons from retail start-up Mo Bro's on how emerging brands can fuel cross-border ecommerce

Key considerations and risks for retailers to craft their international road map

The Department for International Trade is a United Kingdom government department responsible for striking and extending trade agreements between the United Kingdom and non-EU states, as well as for encouraging foreign investment and export trade.