American grocery giant Kroger has tied up with autonomous vehicle firm Nuro to deliver shopping using driverless cars.
Customers in Scottsdale, Arizona, can now have their groceries delivered by the R1 unmanned vehicle.
The rollout of the retailer's autonomous delivery scheme follows a pilot programme that carried out around 1,000 driverless deliveries, which received high customer satisfaction ratings.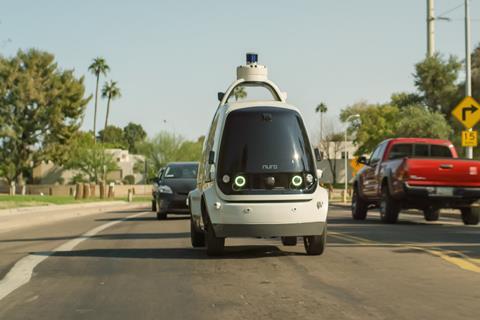 Kroger chief digital officer Yael Cosset said: "Kroger customers are looking for new, convenient ways to feed their families and purchase the products they need quickly through services like pickup and delivery."
"Our autonomous delivery pilot with Nuro over the past few months continues to prove the benefit of the flexible and reliable technology."
Kroger announced its partnership with Nuro in June and the firms started a pilot programme in August.
The unmanned vehicle drives on public roads and only transports product.
Customers can pay a $5.95 flat rate for same-day or next-day delivery.
A statement from Nuro said: "While this first unmanned service represents the culmination of many years of work, it also represents another beginning.
"For this may be the first, but it will be followed by many more: more vehicles, more cities and more services.
"Together with others in the industry, we will usher in new ways to provide transportation, and more time, to everyone."
In October, Ocado and Kroger finalised a deal that will see the US grocery giant build 20 warehouses over the next three years.
The online grocer and tech provider said Kroger would order the first three customer fulfilment centres in the US by the end of this year.
Ocado will install and maintain the technology needed to operate the warehouses.