Retail industry leaders have unveiled a five-year strategy to "reinvigorate" UK high streets with a host of digital schemes.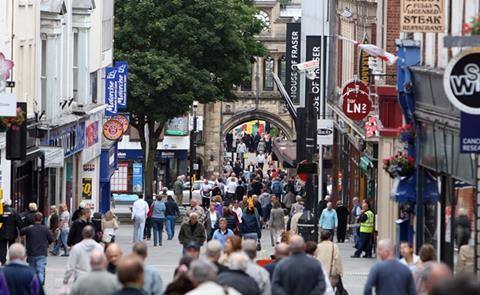 The Digital High Street Advisory Board has proposed to implement four significant digital initiatives in a bid to transform high streets across the UK by 2020.
The blueprint includes meeting targets for town centre connectivity by improving broadband, mobile and wi-fi access and laying on programmes to improve basic digital skills of individuals, small businesses and charities.
A High Street Digital Lab will be set up to provide 1,200 UK towns with ready-to-use digital capabilities and town-specific skills training.
The board will also establish the High Street Digital Health Index, which it said will provide "an interactive benchmark" for towns and local authorities to "drive assessment and change" in infrastructure, digital skills, high street attraction and digital engagement.
The four objectives form part of the Digital High Street 2020 report, which sets out how town centres, and in particular small independent retailers, can benefit from integrating digital technologies into their high streets and "compete more favourably" with national and international etailers.
'Vibrant' digital future
The report suggests that "new solutions in retailing, logistics and traffic management" are needed for towns and cities to regenerate their high streets, "take advantage of technological changes" and offer "genuinely new and attractive shopping experiences".
Digital High Street Advisory Board chairman and chief executive of Home Retail Group, John Walden, said: "The digital revolution is arguably the most disruptive factor affecting our communities, but its effects are not often considered central to high street revitalisation.
"Many members of UK town centres are struggling to keep up with consumers in terms of their digital capabilities, and given the pace of digital growth many towns lack sufficient infrastructure and basic digital skills.
"I believe that the business-oriented board has provided recommendations that, taken together, can restore our high streets to vibrancy in a digital future, into 2020 and beyond."
Six in 10 adults now use mobile phones to access the internet on the move, with more than £150bn of retail sales now influenced by digital, the report says.
"Every business is a digital business because every consumer is a digital consumer"

Peter Fitzgerald, board member and Google UK director
But the board are concerned that retailers with services that fail to meet customers' digital expectations risk losing a combined £12bn in sales every year.
Only half of small businesses and charities have a website and only a third of SMEs have an ecommerce offer.
Estimates published in the report reveal that digital technology could unlock £18.8bn of revenue for SMEs, while reducing their costs by up to a fifth.
Future success
Board member and Google UK director Peter Fitzgerald said: "Today, the vast majority of UK shoppers research online before they buy from a store. This means that every business is a digital business because every consumer is a digital consumer.
"We hope that this report will be a first step towards improving digital access and expertise among small businesses and help them grow faster and reach more customers."
British Retail Consortium director-general Helen Dickinson added: "British high streets have weathered sweeping changes in society, economic cycles, property development and retail expansion, and the seismic impact of digital technology on communications, entertainment and commerce.
"Our communities have survived these changes to varying degrees but while what makes a successful high street has not fundamentally changed, the ability to achieve wider future success is now absolutely dependent on embracing the impact of digital and the recommendations of this report provide a strategy to do just that."
In response to the report, High Streets Minister Penny Mordaunt said: "High streets contribute billions of pounds to the economy and we know digital is the way forward, so it is vitally important traders and town centres keep up with the way people shop if they are to continue to thrive.
"The new digital laboratory is one idea that could ensure small businesses have the tools and skills they need to compete with the big players. We want to future proof our high streets so they can remain at the heart the community for decades to come."