Ikea is testing an interactive 'motivational mirror' to provide people with positive reinforcement, with messages including "suits you sir".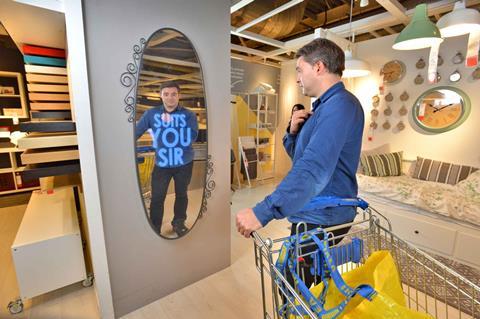 The mirror is being trialled in the retailer's Wembley store and uses Xbox Kinect motion sensor technology to trigger the motivational messages that are delivered via a voice recording and text on the mirror.
Ikea is rolling out the mirror after carrying out a study into how the British public viewed themselves and discovered 33.6% of Brits are critical about their body shape.
Around two fifths of those surveyed revealed they would smile more if they received a compliment on a daily basis.
Ikea UK & Ireland head of bedrooms and bathrooms Myriam Ruffo said: "It's often the small things that make the biggest difference – something that became evident in our recently published Life at Home report which studied how Britons feel in the morning.
"We believe that starting the day positively, having a good night's sleep, quality time with loved ones, or a boost to our self-esteem will have knock-on effects that shape not only the mood of the individual, but that of the nation."