Halfords has turned to green screen technology to provide customers with forensic detail and 360-degree views of its Boardman clothing range.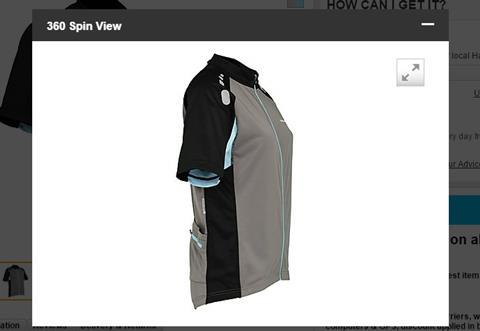 The cycling specialist is following in the footsteps of fashion retailers including Topshop and Uniqlo by providing customers with advanced imagery options when they are shopping online.
Halfords reveals it has invested in "spin technology" to allow browsers to take control of an image and view it from every angle.
The green screen technology has resulted in a 37% increase in the use of interactive imagery on the website, according to the retailer.
Advance imagery allows Halfords to display products in situ and provide a more in-depth product image, allowing customers to view granular detail such as zips, fastenings and stitch work that would usually only be visible in-store.
Halfords has worked with SpinMe for two years on the 'spin feature' on its website and is now taking it to the next level with the green screen technology.
Halfords digital studio manager Ben Towers said: "The phenomenal increase in our customers using 360 pin highlights the need for quality imagery options that are as advanced and detailed as possible."
"Although it's clearly a cycling brand, we want people to view the new Boardman range as a fashionable performance range.
"We're displaying images of the products in a similar way to fashion retailers such as Topshop, Uniqlo or H&M. Our aim is for customers to feel good in what they are wearing, while knowing it's beneficial to their cycling performance."