The Dune Group is to overhaul its ecommerce offer, kicking off with the relaunch of eponymous footwear chain Dune's website.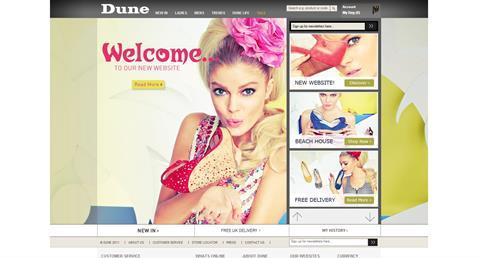 The group, which also includes brands such as Pied a Terre and Bertie, plans to grow its ecommerce sales by 50% in the next year.
Head of ecommerce Rob Bostock said that the group is "heavily investing" in ecommerce. He said:
"We see that ecommerce should be about the 15% mark in terms of our total revenue. That is what we are shooting for over the next year."
The new Dune website, which goes live next week, has been migrated to a platform hosted by ecommerce provider Paraspar.
It offers simplified navigation and displays shoes on a video catwalk. News and features have also been added.
The site will be relaunched internationally and payment can be made in three currencies: sterling, euros and US dollars. It will offer a click-and-collect service, and Bostock plans for the site to be mobile compatible within six months.
All the group's other brands, including Shoe Studio, Bertie, Pied a Terre and Chelsea Cobbler, will be migrated to new website platforms within the next year.