Globally, the retail industry invested $181bn (£145bn) in retail tech and digital improvements last year, but most retailers don't feel like they're getting bang for their buck
Retailers are spending big on digital, with the industry investing $181bn (£145bn) on retail tech and digital improvements last year, according to Gartner.
However, most retailers don't feel that the investment is delivering. According to AlixPartners' Digital Transformation Survey presented at World Retail Congress 2023, three quarters of executives rank their digital capabilities as average and believe their organisation lacks the right skills and processes.
And two-thirds doubt their existing digital tools from past investments can support a modern digital-first business. Therefore the solution is a digital-first operating model.
According to AlixPartners partner and managing director, global leader of retail, David Bassuk: "Ecommerce and stores must align on a shared view of the customer, brand proposition, inventory and financials."
"A single platform is vital to ensure consistent data-management processes across your organisation. In such framework, all pricing, ranging, promotions, margins and other product data is safeguarded by sturdy controls and rules."
Case study: Ulta Beauty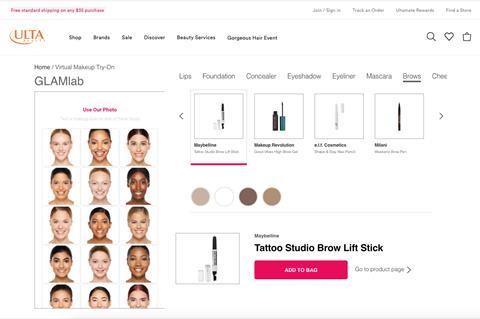 Instead of a complete systems rebuild, AlixPartners says finding an intelligent alternative route to bring a model closer to digital-first will help retailers get more from their tech investments. As an example, the group points to US beauty retailer Ulta Beauty's successes.
Last year, Ulta recorded a 74% increase in online sales over the previous four years, along with a 58% increase in loyalty programme memberships. More than 95% of Ulta's online and offline sales come from its active user base of more than 38 million members.
To get there, Ulta took an integrated approach across four pillars of digital-first: customer; network and fulfilment; product and promotions; and omnichannel journey.
Ulta's move to digital-first began in 2018 when it created a digital innovation team and acquired GlamST and QM Scientific.
GlamST helped Ulta build augmented reality and computer-vision capabilities, accelerating its digital transformation. QM Scientific helped drive the development of a data-driven engine for consumer product recommendations, relying on reviews, purchases and browsing histories.
Two years later, Ulta launched GLAMlab on its app – a feature that uses AI, augmented reality and facial recognition to allow users to try on makeup virtually before they commit to buying. During the pandemic when online retail surged, GLAMlab use increased sevenfold.
The retailer now boasts a 19% EBITDA margin versus the industry standard of 11%, and 95% of purchases are made by loyalty members.
Ulta Beauty chief digital officer Prama Bhatt says: "Who knows all the different ways we're going to be showing up digitally across the internet in the coming years – it's the perfect opportunity.
"We feel strongly about the possibilities that beauty brings, and the ability to express and self-express in the physical world, which surely has a corollary in the digital world."
How to build it
According to AlixPartners, there are three key steps to building a digital-first operating model. First is to invest in data-driven tech that allows for a more scientific approach to decision-making in areas where social data is informing buying decisions, like merchandising.
Secondly, look to automation to help with increasingly complex distribution networks, and solve longer-term structural issues like workforce and vendor sourcing, and contract management. Over the next six years, the market for retail automation is expected to expand to more than $23bn (£18bn) worldwide.
Finally, the group says it's crucial retailers establish new KPIs with a digital-first lens to match the new operating model. For example, store-centric KPIs might focus on footfall and basket size, while digital-first would look at acquisition, retention and customer lifetime value. Site traffic, clicks and cart conversion would move to focus on omni-cross-platform sales, automated pricing and customised promotions.
"Every retailer should be prepared to rethink its operating model towards digital-first demand," says Bassuk.
"Retailers that do will reap the benefits. Those that don't change will continue to watch their profits shrink as online penetration grows and lose out to the winners."