Retailers looking for new ways to update prices are rethinking an older technology. Rebecca Thomson reports on the latest initiatives.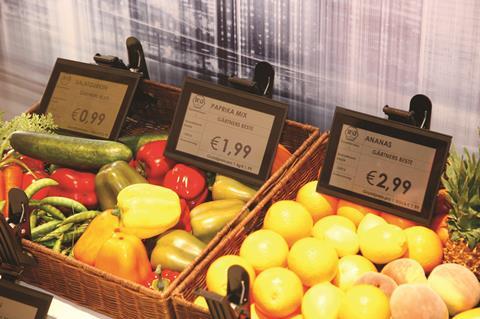 Electronic shelf labelling has been around for years but it is one of those technologies, along with RFID, that has never quite taken off.
That could be about to change if Kingfisher chief executive Ian Cheshire's predictions are right.
He said last month: "Dynamic pricing will become much more common [in retail]. People are used to it because of airlines."
For many retailers, the business case hasn't added up in the past. The costs of implementation have been too high in comparison with the expected benefits. But as is often the case with technology, prices are starting to drop and the IT is becoming more advanced. Retailers are starting to look anew at dynamic pricing.
Dynamic pricing means retailers can change the price of products immediately, making their pricing strategies much more flexible. They can do it using software that tracks factors affecting price - such as competitors' prices or demand forecasts - and then display the new prices across their stores using electronic shelf labels.
At a basic level, this means that if demand rockets for a product - when the Duchess of Cambridge wears a Reiss dress, for instance - the retailer could increase the price of that item. It could also use forecasting analytics to predict what demand will be for products at certain times of the week or month, and change prices each day accordingly. Or it could analyse the prices its competitors are charging online and use that to make sure its prices are the lowest in the market.
Kingfisher's French DIY business Castorama already uses electronic shelf-edge pricing, and Cheshire said the next generation of B&Q stores are likely to feature electronic pricing and a dynamic pricing system. At present the retailer is testing how the technology might work.
Cheshire said there are several advantages to using such as system. It means shops would consistently display up-to-the-minute accurate prices, and that store staff would save time on manually pricing goods. It also gives the retailer a "much greater focus on the visible price file", he added.
Tests and trials
Kingfisher is not the only retailer to consider dynamic pricing. Argos has taken steps towards a more flexible stance on pricing. In its results last month it said: "Argos has commenced the implementation of a new dynamic price optimisation tool in key categories that will automate pricing recommendations, thereby enabling faster, and more data-driven, pricing decisions."
Tesco tested electronic pricing in 2012 and has introduced electronic barkers in Hungary. The initiatives focus on fresh food, and a Tesco spokeswoman says it is reviewing the technology before deciding whether to roll it out. She says: "We trialled electronic shelf-edge labels in Hungary and customers liked the technology. It's easier for our colleagues to manage price changes and it's easier for customers to read the labels."
Tesco chief information officer Mike McNamara said last year: "Every week at Tesco we change between five and 10 million labels and that's an awful lot of labels. The future is electronic shelf-edge labels that we have developed using the same technology as the Amazon Kindle."
But while some retailers have dabbled in the technology, it hasn't been implemented widely by any major UK retailers yet, and some are unsure about its suitability for the retail industry. Ian Middleton, managing director of jewellery retailer Argenteus, commented on Retail-week.com that dynamic pricing in retail can't work in the same way as it does in the airline industry. Higher prices during peak times for hotel rooms or flights makes sense - people often can't change the time they want to fly or travel. But he says shoppers will simply change their shopping habits if retailers employ the same tactics. "Changing prices during the day or week will just shift peak periods around," he believes.
Another commentator on Retail-week.com points out that not all retailers sell perishable goods, making dynamic pricing less relevant. While an airline loses money if all the seats on a flight aren't full, a general merchandise retailer doesn't face the same time pressure. Jeans that are unsold at the end of a day can simply be sold tomorrow. However, retailers clearly don't want stock languishing in warehouses, so they may well find dynamic pricing useful.
Beating showrooming
Vol Pigrukh, chief executive of price monitoring company Profitero, says dynamic pricing can be approached in a couple of ways. Profitero works with a US retailer, Nebraska Furniture Mart, that sells electronics, flooring and home décor lines as well as furniture.
The retailer uses Profitero software to monitor online competitors' prices on key products, and every price is checked by 4am each morning. The information is sent to the retailer and processed, and prices are updated and displayed on electronic labels by 8am.
Used in this way, retailers could deploy dynamic pricing and electronic labels as a way of beating showrooming - shoppers' habit of visiting stores to research items before heading online to buy them more cheaply.
Pigrukh says retailers should highlight that, by rolling out electronic labels and price-checking software, they are doing the shoppers' work for them. "This helps to shorten the buying cycle for shoppers," he says. "Before, they would come to the store then go online to check prices. The retailer can show the shopper that they don't need to do that, because the retailer has done it for them."
The other approach, he says, is to use internal data to predict demand and decide on pricing strategies for different months or according to different shopping trends.
Pigrukh admits that such measures aren't always easy to set up. "It does create potential challenges and change in process for retailers wanting to change prices more often." But he says the benefits of maximising margins
are increasingly outweighing these challenges.
Retailers may well start looking at increasing pricing flexibility and electronic labels, but there will be a limit.
Changing prices throughout the day, for instance, is likely to be a step too far for many retailers, and brings the threat of shoppers changing their habits to fit in with cheaper times of the day.
Pigrukh says it might be worth while in areas such as convenience, but that retailers need to be careful not to annoy consumers.
He observers: "Time-of-day pricing could work, but retailers need to be aware of shoppers' perceptions." But he also points out that a tiny price rise can often lead to proportionally bigger increases in profit on some products, meaning it may be worth looking into small price rises at different times of day on some items.
"A small increase during the rush hour right after work, for instance, might be worth trying. But only time will tell how it's going to work," he says.
Part of the process
The important point to remember, Pigrukh believes, is that electronic labels are only part of the process. Retailers interested in dynamic pricing need to make sure they have the data and analytics to ensure the prices they are displaying are the right ones.
This could mean using demand forecasting software to make sure a pricing strategy is supported by data, or it could mean keeping a close eye on what competitors' prices are doing.
Whichever approach retailers choose, it's clear that data-driven pricing is starting to attract attention. In October, Israeli start-up Feedvisor, which provides dynamic pricing software for online retailers, raised $1.7m (£1.1m) in venture capital funding.
The business has so far worked with online retailers on Amazon's Marketplace and wants to expand beyond that.
Feedvisor founder Victor Rosenman thinks ecommerce can be treated like a dynamic commodities market, and Cheshire and some of retail's other big names seem to agree with him. In particular retail fields, there is scope to introduce more flexibility into pricing, making it more responsive to supply and demand.
It doesn't take much for a new technology to take off, and electronic pricing is at the stage where it only needs one large retailer to introduce it. If Tesco decides to roll out its pilot further, dynamic pricing is likely to rise higher on the list of IT priorities for all retailers.
How dynamic pricing can drive revenue
Price optimisation is a hot topic for retailers. But it can result in frequent price changes and, manually executed, these changes are time consuming and expensive.
For this reason retailers are increasingly seeing a business case for electronic shelf labels, which display price information electronically and update prices immediately and automatically, controlled from a central server.
They allow prices to be changed according to the marketing strategies of the retailer. Even price changes during the day - such as happy-hour pricing or end-of-day markdowns for fresh products - are enabled through this technology. Additionally, the system ensures that shelf prices and the point of sale system are always in sync.
But electronic self labels, or ESLs, are not new. In fact, they predate many of the technologies we see in stores today.
ESLs emerged in the late 1990s and at that time it was conceivable that within 10 years we would see mass adoption. But 15 years on, France is the only market where we see dominance of electronic pricing technology. There, more than 60% of the shelf labels are digital. That is because the driving force in France has primarily been legislative.
The lack of take-up in markets such as the UK is because retailers are put off by the upfront costs. They also believe the quality of information on digital labels versus the paper alternative is poor and there are logistical challenges of such a roll-out. Many would rather wait for someone else to take the first step.
However, as the technology matures and the price of hardware falls, more retailers in more countries are taking a serious look at it. One such example is supermarket group Billa in Austria. Billa fitted out more than 1,000 stores with an Imagotag e-ink paper display to cope with the volume of price changes required on a national 'best price guarantee' promotion on 300 key value items in the stores.
The motivation and business case for ESLs can't be just cost reduction - it has to be a conduit to drive revenue. Used well, it could be more than that, because combining the ability to store real-time competitor data and price optimisation means display technology can help retailers to launch marketing campaigns and promotions that improve customer loyalty, value and their ability to compete effectively and in real time.
Roy Horgan, founder, MarketHub Technologies, which provides digital price technology
Analysis: The 6 biggest retail technology stories of 2013
1

2

Currently reading

Analysis: Is dynamic pricing about to take off in retail?

3

4

5

6